Compact Kitchen Appliances: 12 Smart Sources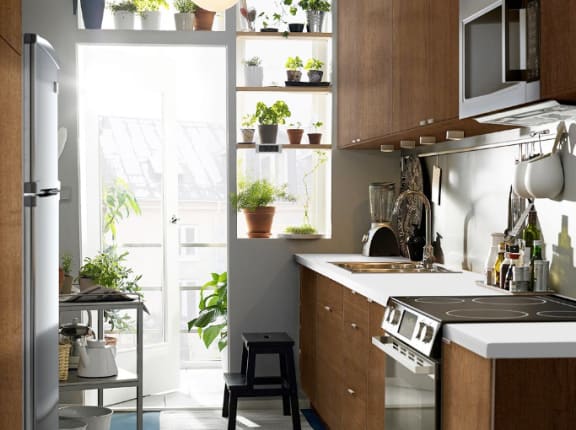 While the average American home size may be shrinking, the trend towards big family-style kitchens seems to stay strong. It's not always easy to find compact appliances, so in case you find yourself renovating a small kitchen and starved for helpful resources, here's a good starter list.
Refrigerators & Freezers
CompactAppliance.com
Based out of Austin, Texas, this online store has pretty much every small appliance on the US market, including washer/dryers, refrigerators, dishwashers, and cooktops. This Summit 2-Drawer Compact Stainless Steel Refrigerator is available there for $1,654.
Smeg
They're an Italian manufacturer that produces sleek, slim appliances. They're best known for their 50s Retro Style Refrigerators, which are 24 inches wide, compared to the average American refrigerator width of 33 inches. Prices run around $2,000 for a Smeg fridge.
Aga
This British company is best known for its ranges and ovens, but they also sell compact refrigerators and dishwashers. They have a US division that sells retro-style undercounter fridges, like this one, available through retailers like HomeClick for about $1,650.
Amazon.com
It's always worth checking Amazon for price comparisons when you're appliance shopping. They have a wide range of luxury and budget kitchen appliances — this is the Sanyo SR-3770S Counter-High Refrigerator, $200.
Dishwashers
Bosch
Bosch is part of the Siemens Home Appliance Group, the world's third largest appliance manufacturer. They have a big selection of Energy Star certified dishwashers in various sizes, including ultra-slim formats, like this 18-inch Special Application Dishwasher, $1,100.
Abt Electronics and Appliances
Based out of Chicago, ABT is an online store with a well-staffed customer service line. This White 18-inch Frigidaire Portable Dishwasher (for apartment dwellers and people who can't install an undercounter model) is available there for $516.
AJ Madison
Based out of New York, this online retailer sells a huge selection of kitchen appliances and fixtures, many of them small scale, and they have an outlet section for discounted goods. Shown left is the Smeg 36-inch Drawer Dishwasher for $1,600.
Sears
Sears is a good source for budget appliances, and they have a number of outlet stores if you're looking for serious discounts. They carry most major brands, including several compact styles — this is the Kenmore 18-inch Built-in Dishwasher, $578.
Cooktops, Ranges & Ovens
HomeClick.com
This online retailer is well-known for stocking a huge inventory of discounted designer items for kitchens and bathrooms. Look here for portable electrics, slim dishwashers, wall ovens, cooktops, and small refrigerators. This 30-inch Maytag wall oven is listed for $1,495.
IKEA
Their appliance selection has expanded this year and now includes induction cooktops and wall ovens. A five-year warranty comes with all IKEA appliances, except for the LAGAN series, which has a 1-year warranty. This is the Eldig Glass Ceramic Cooktop, $429.
Fischer Paykel
This international company has a good selection of cooktops, ranges, and dishwashers for small spaces, including several 24-inch gas and electric ranges, a slimmer alternative to 36 or 48-inch ranges.
Wolf
This company is well known for their high-quality ranges. They also have the full scope of gas, electric, and induction cooktops, which use electromagnetism to save energy and evenly heat cookware. This 30-inch Electric Induction Cooktop is available through ABT and other stores.
RELATED RESOURCES
• Good Resources for Kitchen Renovations
• Sources for Small Kitchen Renovations
• Kitchen and Bath Stores on Marketplace

Photo: IKEA Kitchen
Apartment Therapy supports our readers with carefully chosen product recommendations to improve life at home. You support us through our independently chosen links, many of which earn us a commission.