Cost-of-Living Smackdown: San Francisco vs. Sacramento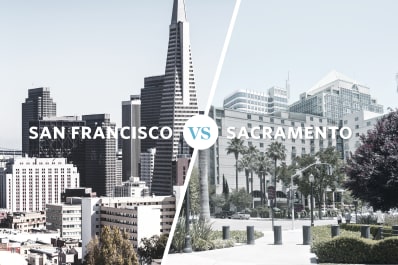 (Image credit: telesniuk/Shutterstock; Rigucci/Shutterstock)
When you imagined yourself living in San Francisco, did you assume you'd be renting a palatial pad that looked like the Tanner residence on Full House? Of course! Then you probably arrived, only to discover that homes like that sell for over $4 million. You see, the fact is that San Francisco is one of the priciest U.S. cities to live in. There are plenty of reasons why people pony up major money to live in San Fran. The weather, the proximity to Silicon Valley, and the diverse residents are all very attractive. However, all those great attributes don't soften the price tag.
Enter: Sacramento! The capital city of Cali (about 1.5 hours northeast of SF), is undergoing a renaissance, and the rest of the West Coast is taking notice. And with a cost of living that's 33% lower than in San Francisco, according to NerdWallet, it's not hard to wonder why.
Everyday Living
Whether it's haute cuisine or Orange Julius, it'll cost you a pretty penny for a meal in San Francisco. According to the cost of living website numbeo.com, a meal for two at a "mid-range" restaurant in San Francisco costs $80, nearly double the national average. Stay at home cooks will notice a dent in their wallets, as well: According to NerdWallet, food is 11% cheaper in Sacramento than in San Francisco. While you'll find some grocery items averaging about the same in both cities (a gallon of milk, for example, only differs by one cent) there are some glaring contrasts: The same data found that a dozen eggs in San Francisco costs $3.83, but just $2.67 in Sacramento. Of course, if you're planning on driving to the grocery store, get ready to pony up at the pump: a gallon of gas will come in at about $2.84 a gallon in San Francisco, vs. $2.64 per gallon in Sacramento, according to NerdWallet. In both cases, that ends up coming out to around $40 to fill your tank. That bike is looking mighty attractive right now, huh?
Jobs and Salaries
It's hard to imagine San Francisco without the legions of tech workers who have gravitated toward the area in recent years with dreams of becoming the next Mark Zuckerberg. "San Francisco has very low unemployment, and major innovations being developed in each market," says Matt Murphy, the CMO of Chime, an all-in-one real estate CRM and lead generation platform, and a San Francisco resident. According to payscale.com, the median salary for a senior software engineer in San Francisco is $136,898. It seems awesome at first thought, but considering the high cost of living, some people still hesitate to live in the Bay Area. CNBC found that tech companies are struggling to recruit new employees because the cost of living in San Francisco is so exorbitant.
But Sacramento has proven to be a key spot for those looking to springboard their career: The California capital scored the number five spot on a new list of the nation's best cities for job-seekers, the Sacramento Business Journal reported making it the highest-ranked California metro area in the report. The scores were determined by looking at four measures in 50 different US cities: job market favorability, salary weighted for cost of living, work/life balance, and job security and advancement rankings. With unemployment low, job opportunities everywhere, and warm weather (the stats show that people are looking to move away from brutal winters) Sacramento is a coveted destination for job seekers.
---
"The California capital scored the number five spot on a new list of the nation's best cities for job-seekers, the Sacramento Business Journal reported."
---
Real Estate
Articles claiming San Francisco had usurped New York as the costliest rent city made major headlines earlier this year, but experts say that the Bay Area and New York are pretty equal now. "Earlier in the year, San Francisco surpassed New York City for the most expensive rent of a one-bedroom apartment nationwide," says Murphy. "But this has recently stabilized and is now on par with NYC rents." So what does that mean for your checkbook? Well, according to NerdWallet, the median rent price for a 2-bedroom apartment in San Francisco is $3519. As for what kind of properties are available, San Francisco is rapidly developing. But that may not be a good thing.
"We are seeing a lot of development happen in San Francisco proper, where old homes are being demolished and replaced with large multi-family units," says Murphy. "With limited supply of land and high demand, it forces developers to build up in any available land space they can find."
Simply put, there's not enough housing in San Francisco, sending the city into a residential crisis that's leaving anyone who can't drop major dough on an apartment or a house in the dust.
Here's an example of the painful price tags: That $3519 price tag for a two-bedroom apartment is far more than any low and moderate income residents (or most young professionals for that matter) can afford to spend. Compare San Francisco's price tags to a two-bedroom apartment in Sacramento, where the median rental price for a two-bedroom is $1718. That's a 57% cut! Still, Sacramento has the fastest-growing rental rates in the country, having experienced a staggering 12.3% rent increase last year to an average rent of $1,169, Rent Cafe found. While the rental inventory is low, with just 730 new units becoming available in 2016, it's safe to say that prices will continue to increase. It's this kind of intense progression that prompted Sacramento Kings owner Vivek Ranadive to tell the Wall Street Journal back in May that Sacramento "went from one of the worst real-estate markets to one of the best."
Culture
There's far more to San Francisco culture than Full House, even if that is our favorite thing. The Bay Area is a veritable mecca of arts and culture, with world-famous museums, architecture, theatre, dining and more. "San Francisco is a cultural mecca, and an amazing place to live if you enjoy the arts and progressive culture," says Murphy. And with over 850,000 residents, San Francisco is diverse enough that no matter what you're into, there's something for everyone. But Sacramento's no slacker when it comes to keeping its residents entertained. Though it has about half the population of San Francisco, coming it at around 490,000 residents, museums like the Crocker Art Museum and Sacramento History Museum make the "City of Trees" a highly coveted place to live. The Old Sacramento area is currently undergoing a massive revitalization, in the hopes of becoming a thriving entertainment district in the next few years.
Livability
Get your podcast queue ready: If you've experienced Bay Area traffic while heading to and from work, you're certainly not alone: San Francisco Bay Area commuters spend an average of 78 hours creeping through gridlocked traffic each year, according to the Texas A&M Transportation Institute. Traffic is absolutely brutal in the San Francisco area, and commuters bear the brunt of it. And if that's not enough, a group of personal injury lawyers say San Francisco has the highest collision rate out of 65 California cities. But there are other options, if you'd prefer to let someone else do the driving: The BART, or Bay Area Rapid Transit, is the subway and elevated train system that operates 46 stations throughout the area. There's also the Muni, the streetcar and light rail system.
"In San Francisco, the city is still trying to build out BART and Muni access to cover all the neighborhoods," says Murphy. "Everyone uses Uber or Lyft to get around, as it's a somewhat inexpensive and the easiest way to travel."
In Sacramento, the SACRT (Sacramento Rapid Transit) is the public transport option that combines bus and light rail. For $2.75 per single ride, the SACRT covers 418 square miles of space throughout the city. While the suburbs are a bit harder to reach by SACRT, there's definitely some evidence that you may want to try public transportation: Earlier this year, Sacramento drivers were named the worst in the whole US, beating out 74 other popular metropolitan areas for the not-so-coveted title.
Have you lived in San Francisco or Sacramento? Or both? You're the experts! Let us know what you love about them, hate about them and which one you'd rather live in.