These Parents Set Up a Sample Station for Their Costco-Loving Daughter
We
independently
select these products—if you buy from one of our links, we may earn a commission. All prices were accurate at the time of publishing.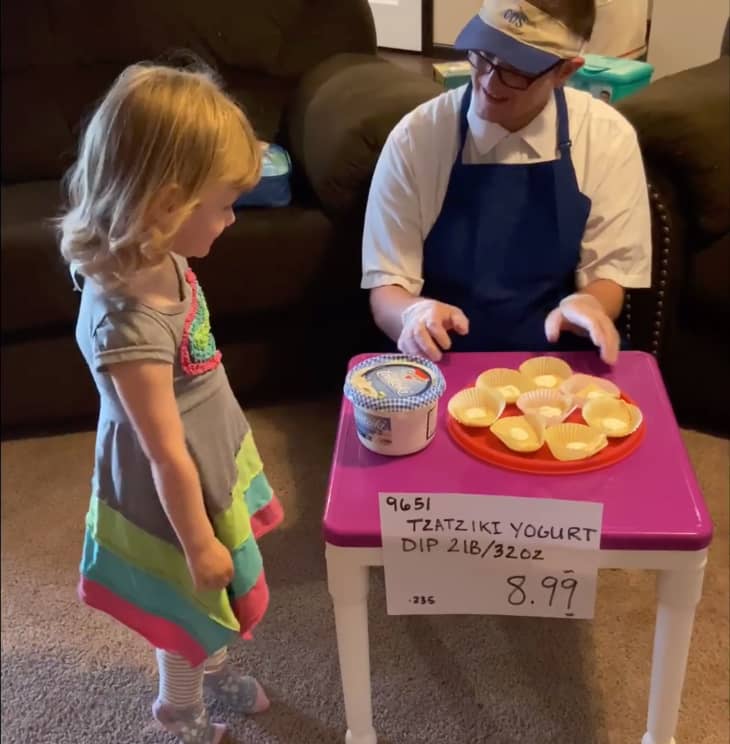 Every kid who grew up following their parents around Costco — and, let's be honest, any adults who love the store for all that it is — knows that one of the best parts of the warehouse-style shop has always been the tiny islands of interaction in the big, chilly building. The nod at your membership card when you enter, the receipt checker at the exit, and, most important of all, the sample stations.
But the sample stations, like so much right now, have been put on pause until a safer time. After one Reddit user drove by Costco, though, his young daughter told him how much she missed getting to go in and eat the samples. "So what do you do when you can't bring your kid to Costco?" the user asks. "You bring Costco to your kid!" Then they posted the video for everyone to see what a great job they did at exactly that.
The video shows the mom waiting as the daughter walks by. "Costco card?" she asks, and the daughter flashes the plastic. Then it gets to the good part: the sample station. "Hello, young lady, would you like to try some gluten-free chicken nuggets?" asks the dad, who is wearing an apron, gloves, and visor, sitting behind a table marked with a replica Costco price sign. It's cute, but as she walks away, he delivers the best line, calling after her in the exact tone and cadence of a sampler: "They're gluten-free snacks, and if you're interested in purchasing them, they're located in the freezer!"
But the commitment to the bit doesn't end there: The video goes on to show the girl heading by various sample tables a bunch more times, each time getting a cupcake-liner full of a different snack, just like in the store. Now, all that's missing from the true Costco experience is coming home with an impulse purchase of a foosball table.