Create a Stylish, Breezy Summertime Space during the Ethan Allen July Sale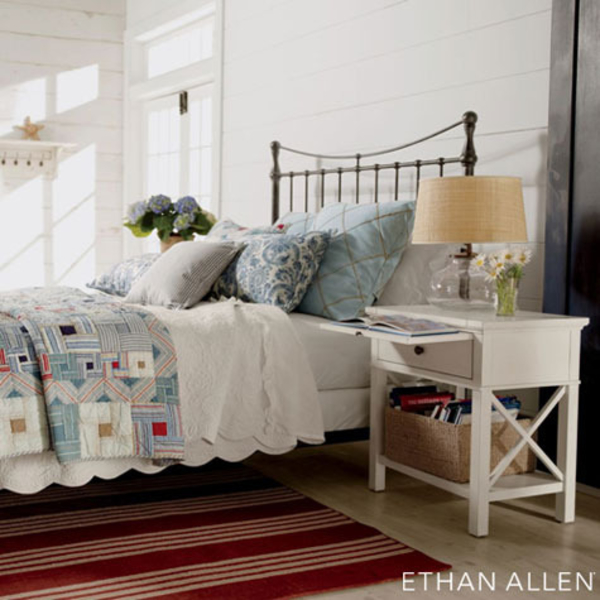 This month, we're celebrating American style of every stripe with our friends at Ethan Allen. Today we're looking at our favorite smaller, summery rooms created by their experts. Note how the nightstand's special pull-out shelf for books ensures that you won't loose your place if you doze off.
If one of these pieces catches your eye, don't forget: the Ethan Allen July Sale is on right now. You'll save an extra $50 for every $450 you spend. Looking for more inspiration? Head below the jump for three great small-space decorating tips from the design experts at Ethan Allen.
Here are more space-saving summer style suggestions from Ethan Allen:
Keep a low profile. Choose one or two large pieces rather than several small ones. Sizable furnishings can anchor a space, visually creating proportion. But bulky silhouettes can also overwhelm so opt for streamlined items—such as a trim-arm sofa, armless chair, or low-profile bed.
Send clutter into hiding. Furniture with concealed storage makes any room appear organized and, well, roomier! Perfect space-savers include a bed with built-in cubbies, drum accent tables, a multiple-drawer coffee table, and a flip-top ottoman.
Let there be light. A single overhead light has a tendency to make a room feel closed in, so increase your light sources and place them near walls to reflect the glow. To further spread radiance throughout the room, place a large mirror on a wall opposite a window.
Visit Ethan Allen Now!


(Images: Ethan Allen)
Comments have been disabled.