Creative Upcycling: Heineken Bottle & Bowling Alley Countertops in a Vintage California Bungalow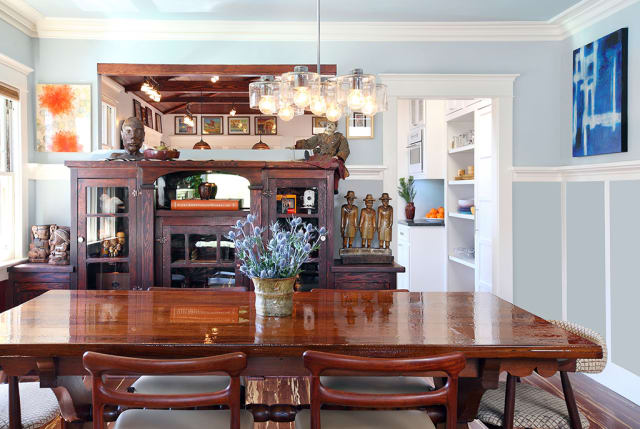 (Image credit: Chas Metivier)
Project by: Sarah Barnard
Location: West Hollywood, California
Sarah filled this historic bungalow with so many bright colors and interesting finds it is an absolute feast for the senses. Taking into account her clients style as well as their interest in eco-friendly design, she found fascinating ways to upcycle and repurpose materials.
Sarah gave this historic 1918 Craftsman Bungalow a contemporary update that respects its past. By utilizing and restoring pieces original to the property, she preserved the home's traditional aesthetic while introducing contemporary elements to create a personalized and unique space.
In keeping with the historic aesthetic, Sarah furnished the interior with eclectic and mid-century modern pieces. The fresh blue wall color modernizes the otherwise traditional dining room (shown above) complementing the deep red woods of the vintage furniture. An original built-in cabinet, a collection of art objects, a vintage dining table and a contemporary chandelier come together in perfect harmony.
(Image credit: Chas Metivier)
The remodeled living room features original moldings and craftsman details accentuated by the contemporary wall color. Saturated colors and modern patterns pair with wood and brass accents. At the heart of the living room is an original brick fireplace restored to its former glory.
(Image credit: Chas Metivier)
A hard working home office tucked away in the corner of the kitchen is custom designed to perfectly fit the space. The countertop made from recycled bowling alley lumber makes the utilitarian space special.
(Image credit: Chas Metivier)
This bright bungalow features a custom kitchen with a collection of handmade elements reflecting the homeowners love of nature and commitment to sustainable materials. Locally made cabinets, countertops made with recycled Heineken bottles, handmade ceramic backsplash tile and cardboard pendant lamps make for a unique space.
(Image credit: Chas Metivier)
Orange dreamsicle! This jewel box of a bathroom was appropriated from a space formerly belonging to the coat closet. By re-distributing the unused space, Sarah was able to add a walk-in shower to the previously compact guest bathroom and features a custom tile design. This particular shade of orange inspires positivity and energy while the placement of the tile in a vertical pattern helps to elongate the tiny space. Pebble tiles on the shower floor create an indoor / outdoor feeling. The tiny corner mounted sink makes the most of the limited floor space.
Thanks, Sarah !
• Are you a designer/architect/decorator interested in sharing a residential project with Apartment Therapy readers? Contact the editors through our Professional Project Submission Form.