A Crime Scene Cleaner Shares How to Remove Some of the Toughest Stains at Home (Yes, Even Blood Too)
We
independently
select these products—if you buy from one of our links, we may earn a commission. All prices were accurate at the time of publishing.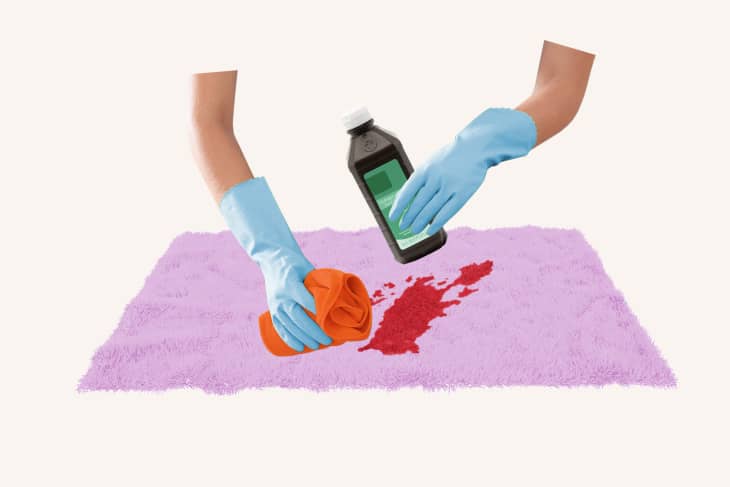 You might already know the trick to getting out a red wine stain in your home, but what about messes that are even more difficult to get rid of? That smell you can't remove or the mess your kid or pet made… you know, the things that won't go away with a simple swipe of a Mr. Clean Magic Eraser. 
The most stubborn spots are usually the ones that come from biological sources, so we went to the expert: Gabrielle Martin, a crime scene cleaner and supervisor at Bio Recovery. 
Here's what Martin had to say about removing the toughest stains in your home.
Cuts happen, and sometimes you don't notice them, which can lead to you tracking blood throughout your home from something you've just stepped on. (I'm looking at you, metal potholder looms.) If it's not a lot and it's pretty fresh, you can likely remove it pretty easily, but if it sits, that can cause an issue.
"At a molecular level, blood has the tendency to bind to any porous materials or fabric," Martin says. "If it's a bit of blood on an article of clothing, you should be able to remove it [by scrubbing the spot] with hydrogen peroxide and cold water. It will require some physical, manual effort to remove it, and depending on how deep the stain is, it may not completely come out."
So try to get to it as soon as possible — otherwise, you'll be spending the night getting another crack at arm day.
Different companies make enzyme-based cleaners to get urine out of fabric, but what if your baby or pet has an accident and you don't have one of the cleaners? Don't panic. It really only takes three things to get out fresh urine stains: water, dish soap, and white vinegar.
"Urine is difficult due to its low solubility," Martin says. "It's not easily broken down by household cleaners." So instead, use an old-fashioned home remedy. Mix two parts water and one part dish soap and vinegar. Sponge it around and in the stain (after blotting up excess urine), and then dab it with a damp cloth to rinse. Dry it by blotting up the liquid with a dry cloth.
When it comes to stains leftover from feces, it's really not that big a deal, Martin says, as long as you're quick to clean up. "Poop stains only make this list if they've been left for some time," she says. "When cleaned right away, they're a lot more soluble and less likely to leave residue. It's when it's left to dry where it becomes more difficult to remove, because [feces] have already dried into the fibers of the material, which means it becomes a longer process to properly clean. Sometimes it doesn't even come completely out."
If you happen to find a stain that's been sitting on fabric for a long time, it's best to just get rid of whatever that item is and buy a new one. But for something like dirty underwear — a simple household mess — soak it in water and baking soda, and scrub the spot with a brush.
Have you ever come home and discovered that there's a certain smell in your home? You may be able to pinpoint where it is, but what caused it might be a mystery. Well, Martin says, to get rid of the stink, you have to find the actual source.
"For simple smells in the home, it's important to know buying fragrances and deodorizer sprays aren't going to fully treat the problem," she says. "If there's an odor, it's coming from somewhere, and the best way to remove it is by discovering where it's coming from and removing it at the root of the problem. It can take some work, but if you want the odor to completely go away, it has to be done."