Crisp & Classic Kitchen: Get the Look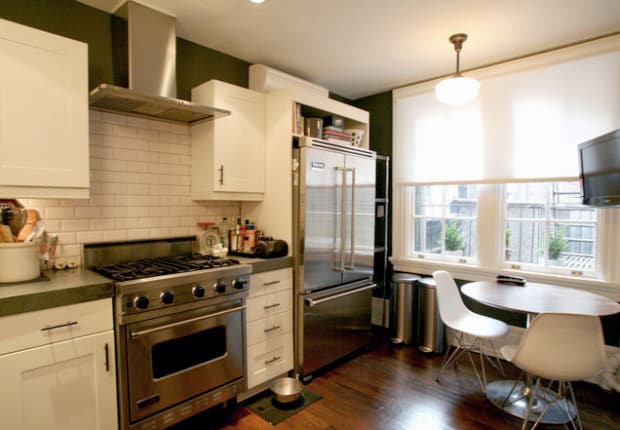 Gitesh and Thomas live in a pre-war apartment that was in need of a major kitchen renovation. Staying true to the apartment's character, they chose classic colors, timeless subway tile, basic white cabinets, and indulged in some new high-performance appliances.
Appliances
Gitesh and Thomas admit to splurging on their Viking commercial appliances. If you're going to splurge, this is a good place to do it, since top-of-the-line appliances can boost a home's resale value.
Viking
Viking combines high-performance gas ranges with electric self-cleaning ovens, and they look cool to boot. Prices for ranges start around $4,000. They also make spacious refrigerators that come with extra features, like customizable freezer drawers.
Tile
Subway tile is classic, easy to clean, and goes with a variety of different styles. It's also a good way to save money on a kitchen renovation, since you can find inexpensive subway tiles at most big box hardware stores.
Home Depot
They have some popular lines that have received good customer reviews, including Dal-Tile and the Merola Metro Subway Tile (shown left) for $58 per case. For more tips on shopping for tile, see this post.
Cabinets
Besides being inexpensive, IKEA kitchens carry a 25-year warranty, and the kitchen department's quality control is more exacting than most of the store's catalog.
IKEA
All IKEA kitchens start with the Akurum and Rational lines, which can be customized according to your needs. Our best guess is that Gitesh and Thomas' cabinets are the white Akurum 'Lidi' or 'Adel' style with Lansa handles.
Paint
Gitesh and Thomas used Benjamin Moore paints — you can find the full range of colors in standard, low-VOC (the Aura line), or no-VOC (the Natura line).
Benjamin Moore
For a classic kitchen, we'd recommend checking out Benjamin Moore's classic or historic collections. Shown left are Lafayette, Tarrytown, and Yorktowne Greens from the historic collection. For more on historic greens from Benjamin Moore, see this post.
Lighting
For classic lighting, we always like to check Rejuvenation and Schoolhouse Electric, two companies that specialize in recreations of American 19th and 20th century styles. Gitesh and Thomas' fixture comes from Schoolhouse Electric.
Schoolhouse Electric
Based out of New York and Portland, this company replicates more than 100 light fixtures from the last century using original cast-iron molds in styles as diverse as Art Deco, Arts and Crafts, Art Nouveau, and Colonial Revival. This is the Wilamette Fixture, $120.
Kitchen Table and Chairs
The mid-century table and chairs are a nice complement to the mostly 1930s and 40s era details throughout the rest of the kitchen.
Room & Board
Gitesh and Thomas' kitchen set comes from Room and Board, always a good resource for well-made, licensed reproductions of Mid-C classics. For a similar setup, try the Axis Table ($650) with Eames Molded Plastic Chairs ($250).
Countertops
Concrete counters are a basic, durable alternative to stone. For a similar look, you can also try heat-resistant fireslate. Gitesh and Thomas' countertops were custom made by Concrete Central.
Concrete Central
Based in New York, they can mold the concrete into any shape or customize it with color, embedded stones, or even colored glass. Because the concrete is hand-mixed and poured, each counter is unique and has its own variations and imperfections.
More On This Kitchen
• See the full tour of Gitesh and Thomas' kitchen here.
• See the full tour of their whole home here.

More Kitchen Renovation Resources
• Sources for Small Kitchen Renovations
• Fold-Out Jewel Box Kitchen: Get the Look
• Bright, White Industrial Kitchen: Get the Look
• Modern Kitchens: High and Low
• How to Shop for Tile
• Modern Micro Kitchen: Get the Look

Photo: Jill Slater