You Can Visit Crunchem Hall From Netflix's 'Matilda: The Musical' IRL For One Day Only
We independently select these products—if you buy from one of our links, we may earn a commission. All prices were accurate at the time of publishing.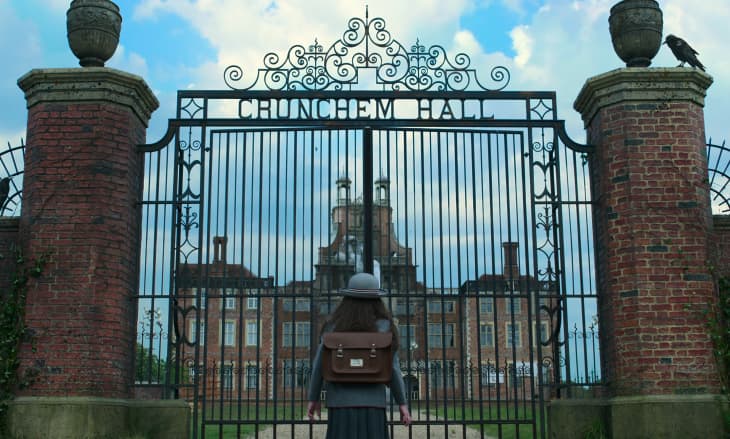 Calling all the big kids! You can visit the imposing Crunchem Hall from Netflix's "Matilda the Musical" adaptation for yourself very soon. The estate will be open to members of the historical conservation group English Heritage for one day only on Friday, February 10. 
In real life, the school was brought to life at Bramshill House in Hampshire, England, a stately home once owned by royals like Henry VIII, King James, and King Charles I. The 43,002-square-foot manor was also used by the Red Cross for evacuees during World War II, and, more recently, as a police training college. It's also said to be the most haunted house in England, with several ghosts supposedly haunting the grounds at night. In other words, it's seen quite a lot of action before Matilda and the rest of Crunchem's students ever laid eyes on it.
Unfortunately, pint-sized Matilda fans won't be able to see Bramshill House for themselves. Apart from the English Heritage membership requirement, visitors must be at least 16 years old. Interested? First, you can purchase an English Heritage membership starting at £53 (which roughly translates to $64), regardless of your nationality. Next, head over to the event page, where you can book timed tickets. Each ticket retails for £35 ($42) per member.
If you can't make it to the real-life Crunchem Hall next month, don't worry! You can check out other filming locations from "Matilda: The Musical" any time. The village featured in the movie is Denham, Buckinghamshire, which happens to be close to "Matilda" author Roald Dahl's home and museum in Great Missenden, England. And if you're craving time in the English countryside, you can head to Dunstable, where many of the film's rural scenes were shot.