I Never Thought I'd Be Able to Fit a Dresser In My Tiny Studio — Until I Found This One
We independently select these products—if you buy from one of our links, we may earn a commission. All prices were accurate at the time of publishing.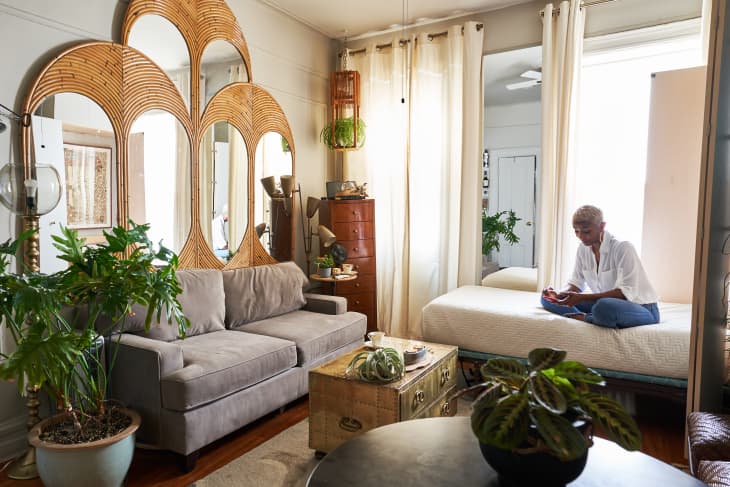 There's a lot I love about my studio apartment: the layout, the surprisingly enormous bathroom, and the in-unit washer, among other things. But alas, nothing in life is perfect and the one downside to my place is the square footage. At 489 square feet, it is the definition of a small space. This meant that when it came to furnishing my apartment, I had to get really selective with the pieces I chose, which also meant giving up something. For me, this was the dream of having a dresser, something I was able to make do with thanks to some conveniently placed under-bed storage drawers. However, after a while, I really began to miss the luxury of having an easy-to-access dresser to store things like intimates and extra bedding. With only one place I could reasonably place a dresser, my options were limited. I needed something incredibly narrow but still spacious enough to justify the purchase — and I was able to find that in the Cubiker Dresser Storage Organizer.
Follow Topics for more like this
Follow for more stories like this
Now, a traditional dresser this piece is not. Designed for small spaces, it's a very narrow find, measuring 11.8″D x 38.2″W x 21.3″H. It comes equipped with five foldable storage drawers in two sizes to fit a range of items, five stylish drawer pulls, and a sturdy metal frame for an extremely solid build. Best of all, with its MDF wood top, this dresser looks exceptionally chic, a major bonus especially when you take the price into consideration.
Eagerly tracking its delivery, the moment the dresser arrived I brought it upstairs and began assembling it. Twenty minutes and 100 or so twists of an Allen wrench later, I had what had eluded me for two years: a dresser small enough to fit in my studio. Since picking this piece up, it has come in so handy. It now houses my intimates, extra sheets, and my ever-expanding "to-be-read" collection (I blame my book club), neatly and compactly alongside my bed. For me, the best part is the height; at just 21 inches tall, it falls right below my window ledge meaning I don't have to worry about it blocking my view, something that was a must for me. Best of all, by freeing up that space under my bed, I've now been able to use it for different storage which has removed some of the clutter from my open areas. Who would've thought adding a piece of furniture to my studio would make it look less cluttered?
Available in two sizes and multiple finishes, the Cubiker Dresser Storage Organizer is not just a compact find, it's wallet-friendly, too, coming in at just $65. So whether it's a studio apartment, your child's bedroom, or another small space in need of some organization, this dresser can help you maximize even the smallest space. Now if you excuse me, I've got some socks to put away and a book (or 10) to read.