This Dallas Apartment Is Incredibly Quirky, Witty & Colorful
We independently select these products—if you buy from one of our links, we may earn a commission. All prices were accurate at the time of publishing.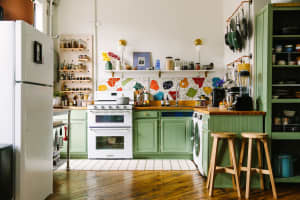 Can't-Miss House Tours Straight to Your Inbox
Keep up with our latest house tours each weekday with our House Tour of the Day newsletter
Name: Melissa Smrekar
Location: Dallas, Texas
Size: 1,200 square feet
Years lived in: 8 months, renting
With a nod to the 1950s and 1960s and influences from hotels to Thorne's miniature rooms, this colorful apartment in Dallas is inspired by such varied elements as the all-woman co-working space The Wing to quirky Wes Anderson films. It's a downtown apartment that's truly a magical time machine to walk into.
We first got a taste of Melissa's bold and vibrant decor style in her house call, where she showed that the beauty of living alone is decorating exactly how you want. Well, almost exactly. She admits that renting does mean some limitations (her kitchen, for instance, is very woodsy and outdated). "For today, though, I rent a 1,200 square foot 1950s apartment for me and my cat. I'm going to create a home I love for this spectacular season of life. There's a time for everything, and a season for every activity under the sun."
Apartment Therapy Survey:
My Style: Witty, Whimsical, Quirky, Collected, and Colorful
Inspiration: The late 1950s and early 1960s, hotels, Italy, Thorne's miniature rooms, The Wing, Wes Anderson films, and my fictional inspiration: Margot Tenenbaum, Peggy Olson, Elaine Benes, Phyllis Nefler, Tracy Flick, Tami Taylor, Sue Ellen Crandell.
Favorite Element: My apartment is full of subtle, tongue-in-cheek cultural references to movies and books. Vintage pillowcases are embroidered with "Khaki Wishes" and "Cookie Dreams," a nod to one of my favorite movies, "Troop Beverly Hills." I needlepointed the pillow on my bed that says "I would prefer not to," a famous line from a Herman Melville short story that felt too "on brand" to resist. There's a painting of Peggy Olson in the living room that I commissioned of an iconic scene from "Mad Men," my favorite television show. Everything is intentional, without being taken too seriously.
That enormous vintage signed Louis Vuitton lithograph is probably my best "find" ever. I bid $30 in an online auction based on a tiny thumbnail image. I didn't read the dimensions. My $30 bid won. I drove out to a dilapidated warehouse to pick it up, thinking it was poster-sized. It's larger than my wingspan and worth a couple thousand dollars. Who knew? The typography is rad, and I didn't get murdered picking it up. All in all, a great day.
Biggest Challenge: My kitchen doubles as a time travel machine. It's mid-century without the modern. It's… a lot of wood. Because I rent, though, I'm not going to spend money to renovate the kitchen. My solution was to replace the cabinet hardware and the ratty old yellow linoleum floors with white peel-and-stick vinyl tile from Lowes. I also overcame my challenging kitchen by baking a really cute cake to sit on the counter for photos.
What Friends Say: "It's so you." "How many pairs of cat shoes do you have?" "If I didn't live with a man, this is what I'd want my house to look like."
Biggest Embarrassment: I hope I'm never embarrassed of my home or embarrassed of my age. It's an enormous privilege to get to grow up, just like it's an enormous privilege to have somewhere to come home to. In an Instagram age, too often we forget that we're seeing someone else's life through a filter. Zoom in and you'll see the cat hair and cheap-ass metal blinds. Every person featured on Apartment Therapy hid something in the closet prior to the photo shoot. (I hid my cat's scratch tower because it's hideous.)
Proudest DIY: When you live alone, your life is do-it-yourself. My proudest DIY, then, is that I created a home I love—that I can be alone within it without being lonely. If I don't know how to do something, I watch YouTube videos and figure it out. I move my furniture around at midnight if I suddenly decide I hate the layout. You don't have to wait on somebody else to build a badass life. Do your thing.
Biggest Indulgence: D. Porthault linens! It's pretty indulgent to sleep on the preferred whites of Jackie Kennedy. I don't yet own the duvet because it's literally more expensive than one month's rent. (So maybe I need to look at my life choices?)
Best Advice: Quit chasing trends. By the time it's at Target, it's over. (I'm looking at you, "Modern Farmhouse.") Also, you don't have to make design decisions with "forever" in mind. 10 years from now, I might have a husband and children in a traditional Southern home with plantation shutters and proper library. Maybe I will, or maybe I won't. For today, though, I rent a 1,200-square-foot 1950s apartment for me and my cat, and I'm going to create a home I love for this spectacular season of life, too. There's a time for everything, and a season for every activity under the sun.
Dream Sources: I'd like to be one of those annoying people who just answer that everything was made "custom," like, "Oh, the bedding? I had it made."
DINING ROOM
Chandelier – World Market Brass Starburst Collin Chandelier
Dining table, dining chairs, sideboard, china cabinet – Vintage via my parents' house
Photographs – by me, printed and framed via Framebridge in Sonoma
Gold candelabra – Target
Taper candles – World Market
Ice bucket – MacKenzie-Childs
Bowl – MacKenzie-Childs
Pillow – Furbish
Coral cabinet – Vintage
BATHROOM
Comb, hairbrush and bobby pin prints – Rifle Paper Co.
As If print – Urban Outfitters, A Sensible Habit As If
Shower curtain – Target (no longer available)
Garden stool – Home Goods (no longer available)
Italian shell back chair – Vintage, purchased off a Facebook neighborhood resale page