Pike Place Market
(Welcome to Danielle, one of the finalists in our Blogger search. She's writing from Seattle. Comment away!)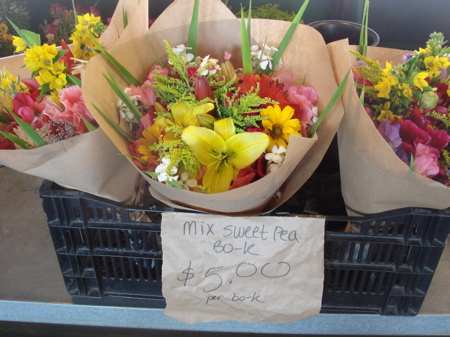 To all AT:SF Blogger Tryout posts
You can't get much more iconic in Seattle than Pike Place Market. And one of the hallmarks of this icon—besides the fish-throwing guys, of course—is the row of flower stalls running along the market's entire length.
As my cousin from Barbados pointed out on a recent visit, in half a block you'll see five people carrying the big paper-wrapped bunches of flowers with smiles on their faces. One can't help but imagine the loved one or dining table for which the bouquet is destined. Go right before closing at 6 pm to get huge $5 bunches of one kind of flower—I for one prefer to skip the fussy arrangements.

For me a market flower-run isn't complete without also visiting Antiques at Pike Place, where I can satisfy my current obsession with vases ('vase' used loosely; anything fascinating that'll hold water and aforementioned bouquet qualifies). Check out Mark's stall in the back left corner for a regularly refreshed selection of mid-century pieces.
(pic is of a recent flower and antique store find)
Published: Jul 9, 2007