The Dated Dining Room Features Buyers Always Notice
We
independently
select these products—if you buy from one of our links, we may earn a commission. All prices were accurate at the time of publishing.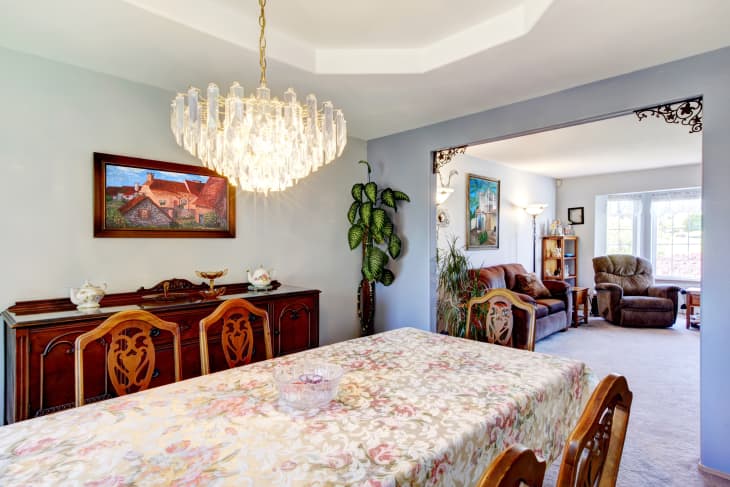 What's the cleanest room in your house? If you have a formal dining room, there's a good chance that might be it. You know the one; it's the room you usually don't enter unless company is over or it's a special occasion. 
Certainly it's a plus to have a clean space, but the downside is that those rooms can become awfully outdated awfully fast. If you're selling a home with a formal dining room (or even just a regular one that you use all the time), make sure to fix up these turn-offs for buyers.
Buyers can usually tell when someone isn't using their dining room for most of the year — because it's packed with overly ornate features.
"Think decorative columns that don't make sense with the rest of the house," says Chicago real estate broker Ryan Hardy. "A stuffy dining room aesthetic is the most dated aspect I see, from huge tasseled curtains to outdated matching dining sets and outdated border wallpaper."
These things might be an easy fix with things like removing a border, lightening up the curtains, and swapping out a chandelier for a modern light fixture. Columns though, especially if they're structural, can be difficult or impossible to remove. So instead, Hardy suggests framing them in and modernizing them with cleaner lines.
Luckily, these details aren't going to kill a sale, even if they're left undone.
"I don't think these features tend to be a dealbreaker for a homebuyer," he says. "Aesthetic design choices can always be changed, as can the function of the room itself."
You may rarely set food in your dining room, let alone eat a meal in there, but remember it's important to check for needed maintenance regardless.
"The most outdated feature I've seen lately is probably just really old peeling wallpaper that desperately needed to be removed and replaced!" Hardy says.
So take down anything unsightly, give those walls a fresh coat of paint, and check all the windows and trim for anything that might need some fixing. It shouldn't take much time, but it could make all the difference for a buyer.
Your home may have a formal dining room — and indeed, they're coming back into fashion after a few years of being outdated, Hardy says. But if it's only used for one purpose (eating), you may want to reconsider the design when buyers stop in.
"I do see dining rooms becoming more multifunctional and designed less formally," Hardy says. "These rooms can still be high design and formal but can also provide other uses. Adding a few leather or upholstered club chairs by the window and building a built-in bookshelf suddenly transforms the space into a library and study area as well, with the dining table doubling as a work space during the day. Bring your coffee and laptop and you're good to go!"