Day 10: Make a Shopping List & Budget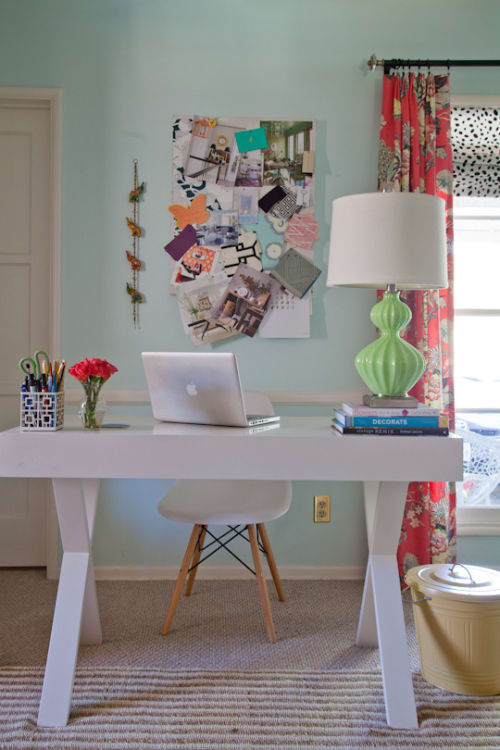 Day 10: Wednesday, August 14
Assignment: Make a Shopping List & Set Your Budget
Today is an important day for the rest of your Cure. It's time to sit down and make note of what you need to get the job done, which means that those of you who put some time in on the research assignment yesterday should be able to conquer this step handily. If you still need to research your project or product, no worries, just roll that into today's "homework". From paint to fabric to that perfect lamp shade, you want to get it down on your shopping list and then figure out what your budget bullseye is going to be.
Today's Assignment:
• Write out your shopping list: Sit in the room you are curing to write your list. Look around, take your time and envision the new colors, textures, objects and items that you want to add to the space - "seeing" what is going to be there in this way will help you to avoid forgetting key items. Big or small, if you think you are going to need anything for your room Cure, get it on this list. Things can be super specific (such as West Elm Parsons Wall Mirror) or general (large potted plant for desk) but include them, regardless. Think about the projects, (paint (how much?), painting supplies, (maybe even a painter!), fabric, thread, frames) as well as the products (side table, task lamp, oversized vase, new towels). Refer to yesterdays research to make sure you're adding all the necessary little odds and ends to your list, especially for projects you are tackling for the first time. You can always cross things off later if your plans change, but for now, aim for making it super-complete.
Estimate the cost of the items on your list and set your budget: Start with the things you are confident that you know the general price for and then search online for the rest. Remember to factor in tax and shipping, if applicable, and then add 5% to the grand total to cover the last minute incidentals that invariably pop up. While the individual item prices may just be estimates (and some will have to be very rough in certain cases, such as secondhand or thrift shopping plans) its still important to get a picture of what you think your plans will cost and then see if it matches what you feel comfortable spending on the room at this time. Adjust the list (and scope of plans and expectations!) as necessary.



• Download our PDF to see the full upcoming schedule (and print it out if having a hard copy is helpful to you)
Join The Style Cure: Click Here to Sign Up
Questions? Comments? Pictures? Email us about your progress at stylecure@apartmenttherapy.com
Get the Book: Apartment Therapy's The Eight Step Home Cure by Maxwell Gillingham-Ryan


Follow and contribute on Instagram, Pinterest and Twitter! The Style Cure: #stylecure
(Image: Bethany Nauert / Irene & Evan's Welcoming Whimsy)
Apartment Therapy supports our readers with carefully chosen product recommendations to improve life at home. You support us through our independently chosen links, many of which earn us a commission.