Debra Broz's Bizarre Animal Sculptures Perfectly Straddle the Creepy-Cute Boundary
We independently select these products—if you buy from one of our links, we may earn a commission. All prices were accurate at the time of publishing.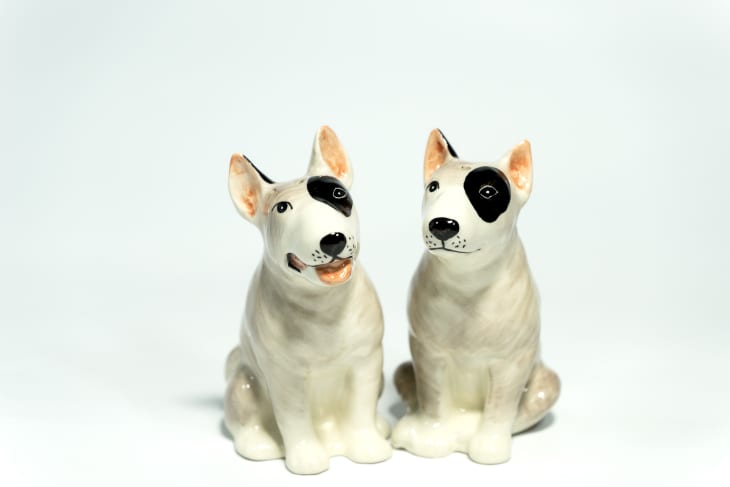 Browse artist Debra Broz's Instagram profile and you'll find: a cat surprising another cat with a mouse mask, an elephant with red bird wings, a creature (an otter? a weasel?) whose head is replaced with a balloon connected to a tube that pumps it fuller and fuller of air until the inevitable happens.
Follow Topics for more like this
Follow for more stories like this
A ceramic raccoon is surrounded by the evidence of a McDonalds binge. 
A ceramic dog wears a torn-up part of a plush dog's face as a mask. 
Is it cute? Is it creepy? You may never decide.
"I think a lot of us are frequently telling ourselves that the world is this very serious place, and that our lives as adults require careful consideration—and to a degree that's true—but we also need to take time to realize that the world is also wildly full of nonsense, and that aspects of our lives are incredibly ridiculous. And I think it's completely fair for us to recognize that, and laugh about it."
Broz also told a story to Colossal about one of her early artistic inspirations. Her grandfather built a miniature outhouse that would explode when a quarter was dropped into it.  "For me, that object—the exploding outhouse—is weirdly inspirational in the way it takes something unassuming and makes it into something that surprises or bewilders people," she said. "It's funny how that theme is so prevalent in my sculpture, but I had never thought about it in the context of my grandpa's exploding outhouse until recently."
Other highlights of Broz's work include a human family with a variety of human arms and crab claws:
Whatever you call three horse hindquarters with no forequarters:
And these relatively sweet shellfish:
Check out more of Debra Broz's work on Instagram.