6 Things 3 Years at Apartment Therapy Have Taught Me About Home
We independently select these products—if you buy from one of our links, we may earn a commission. All prices were accurate at the time of publishing.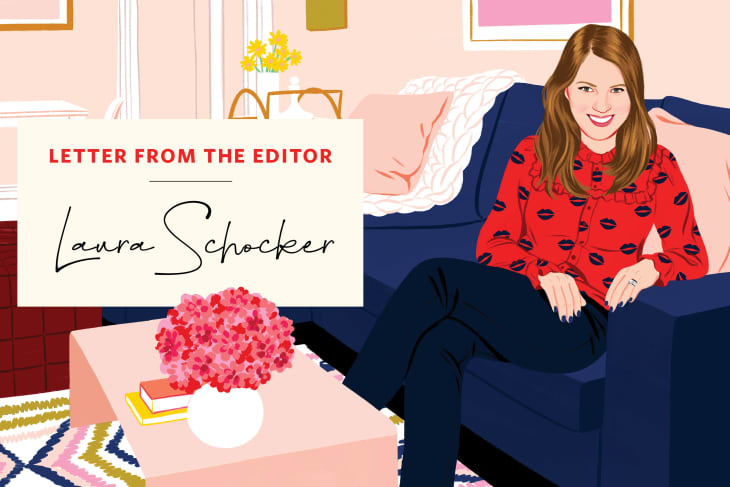 This past Friday, Dec. 4, was my three-year anniversary as the editor at Apartment Therapy. For the past two years, I've marked this occasion by compiling a list of things I learned during the year here at AT. 
Follow Topics for more like this
Follow for more stories like this
This year has been uniquely challenging in so many ways, but one thing I definitely know about 2020 is that home has become even more important than I ever could have imagined.
Back on that first-year anniversary in 2018, I wrote: "Home, if you're lucky enough to have one (and one that feels safe), is really important. Sometimes I feel a little silly talking about blue couches when there's so much serious stuff happening in the world right now. But the truth is that a lot goes down at home: it's where we gather and connect with family and friends, recharge, make room for new ideas—and sometimes stay in all weekend binge watching TV."
Little did I know how home would transform into a very part of all of the serious stuff happening in the world. In March of this year, for those of us with the privilege to do so, staying home went from a personal preference and/or pleasure to a safety imperative. When so much felt out of control, especially here in NYC last spring, I knew staying home was one little way I could give back to my community and to so many others who simply had to work, like my 69-year-old dad in Pennsylvania, an oncologist who has continued to go to the hospital every day for the past 10 months.
Throughout that time, my home itself transformed—suddenly becoming my office, gym, virtual doctor's office, hangout spot, and so much more. I can't imagine a year where I learned more about home, from both my personal experience and from my work at Apartment Therapy. Here are just a few of the lessons I picked up during this weird year:
Cleaning is a science. I've edited so many articles about cleaning over the last decade or so. I, of course, on some level understood that it's about killing germs as much as it is about making your space look sparkling. But I didn't really get how important that was until the early days of Covid-19 in the U.S. I learned so much from our in-house cleaning expert, Taryn Williford. A few key kernels: the concentrations of active ingredients really matter, as does the amount of time you let your cleaning products sit on the surface. And for some viruses (like the one that causes Covid-19), time is actually a super effective sanitizer. 
Work (and working out) from home isn't easy—but it's possible. I used to envy my colleagues who worked from home every day (no commute! Homemade lunches! Sweatpants every day!). I feel so lucky to have a job where I can work from home, and the space to do it. But it's brought its own challenges, from finding a comfy chair that fits my aesthetic, to accepting the fact that I now have two giant monitors living on my dining table… forever. Plus, I miss seeing my co-workers in the office kitchen or on the elevator on the way to lunch. A few things that have helped me: for starters, I've accepted the new clutter, from the foam roller and yoga mat taking up a permanent spot in my entryway to, yes, those monitors. I've also tried to schedule time to walk outside every day, even if it's only for 10 minutes. Plus, my husband and I go over our schedules at the beginning of the day to find conflicts where we both might need to be on the phone, so we can plan for one of us to set up shop in the bedroom. It's not a perfect system, but it works.
You can do a lot with a little space. One of my favorite parts of this job is getting to see how other people live at home. And while I've always known the people behind our house tour features are legitimately geniuses, this year I really appreciated how they maximized their spaces, now that every square inch counts more than it ever did before. Take Kim White's Brooklyn house tour, for example. She packs more storage in her 296-square-foot space than people do with four times that size (she also brilliantly added a washer and dryer to her bathroom early on in the pandemic). Or take a look at the home of Tyler McBeth, who works as an ICU nurse in New York City. This is a perfect case study of creating a safe, nourishing home that's also packed with function—all in 140 square feet.
You can accumulate a lot of clutter living in a place for 10 years. In the past few months, I've been trying to declutter my one bedroom apartment to make room for our baby girl, who we're expecting in February. Why was I storing some of these things?! Fortunately, we had tons of resources to help on the site this year, starting with our newly rebranded Decluttering Cure, which we launched in September. (Even better? You can still sign up to start the program now.) The system that's worked best for me is breaking everything down into a big list of little projects. They all live in a Google sheet, and any time I feel like I have a little pocket of time, I check one off the list.
It is possible to connect with your neighbors, even in a time of social distancing. In early April, I wrote my editor letter about NYC's 7 p.m. ritual to cheer on essential workers out the window. Later that month, we published a piece about how people are using their windows and yards to spread joy, with stuffed animals, construction paper hearts, giant signs and tons of painted window rainbows. "We're all going through this strange thing together, so it's really heartwarming and lovely in a way to keep on persevering," Anna Grotsky, who keeps a map of homes with windows featuring window paintings and crafts, told Apartment Therapy at the time. And in June, we published another story about how communities have sprung into action online. I've loved watching all of the ways people connect during this disconnected time. One thing I tried: the week of Thanksgiving, I emailed my building listserv to ask if anyone would be alone or unable to get food for the holiday. My husband and I had so much to eat for the two of us, it felt wasteful not to share it. At first I was a little embarrassed by the response, with more than a dozen people telling me how kind the offer was—I wasn't fishing for compliments, I genuinely wanted to share. But then I realized how isolated we've all been, and how much an act of outreach matters. The best part was that I connected with a neighbor I've never met, who was alone for the holiday after her adult daughter was diagnosed with Covid. I left her a meal on her doorstep, and it took away a little bit of the sadness that I wasn't sharing the day with my family. And now, a little over a week later, we're still exchanging emails, getting to know each other from three floors away.
Having a safe place to live is an even bigger privilege than ever. While some might think staying home is an incredible burden, it's also an incredible privilege. With millions out of work or experiencing reduced pay, our country is also facing an eviction crisis. Not to mention that even for some people who technically have a home, staying there doesn't feel safe (we wrote about this back in March). I've always known that having a safe, comfortable home makes me so lucky, but that has felt especially poignant this year as I've watched so many around me struggle. Here are a few ways I've tried to help: for starters, I really admire the work the Coalition for the Homeless does each year, but especially this one. They're a wonderful place to donate money if you can. I also reached out to a local men's shelter that popped up during the pandemic to ask how we could make their residents feel welcome. The answer: clothing donations, individually packaged snacks, and hygiene items, plus gently used books, board games, and decks of cards for a rec space they were creating. I never would have thought to include those last three items, and I'm so glad I asked what they really needed before making my donation. It was as simple as a two-minute email.
I am so lucky to have spent the past year creating content about how to live happier, healthier, more beautiful lives at home. I always take this job seriously, but it's never felt more important than it has this year. I'm particularly grateful to our team here at Apartment Therapy for thinking about what our readers needed most, even while they were also experiencing the effects of the pandemic firsthand in their own homes. Recently, I put together this compilation of some of our best content from 2020—it includes some of the articles I mentioned above, as well as dozens of others. Please check it out, and let me know what you'd like to see more of in 2021.
Wishing everyone a safe and healthy December.