How to Declutter Holiday Items Before It's Time to Decorate
We
independently
select these products—if you buy from one of our links, we may earn a commission. All prices were accurate at the time of publishing.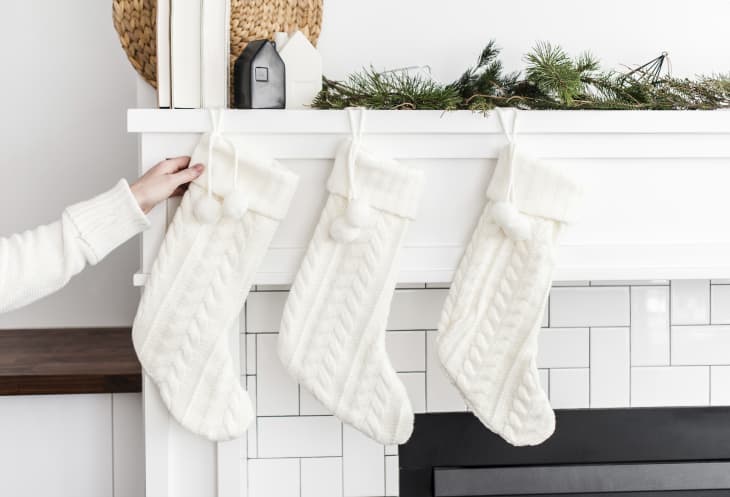 It's common to assume the best time to declutter your holiday decor is after the holidays are over. But actually, it's kind of the worst time. Think about it — not only are you likely to be fatigued from all the festivities, you're also prone to be experiencing a bit of the post-holiday blues. After all, taking down the holiday decorations is nowhere near as joyful as putting them up. This is exactly when shoving all of the decorations into bins and boxes without any sort of strategy becomes an enticing option.
But organizing your holiday decor before you decorate is a much more effective approach. It allows you to take stock of everything that you have, rediscover items that may have been forgotten, and let go of things you haven't used in years. Plus, donating items before the holidays allows you to spread good cheer to others during the time of year when they are actually in need of holiday decor.
Below are five steps to help you declutter your holiday decor like a pro.
Sort items by category and size.
Gather all of your holiday storage containers into a room with plenty of open floor or table space. Start by removing items from the containers and grouping similar categories together. Create a pile for each: lights, ornaments, wreaths, garland, candles, gift wrap, yard, and so on. Laying everything out allows you to get an overview of what you currently have and determine whether you have too much of anything.
Once you've grouped all of your items into categories, create sub-groups within those categories that make sense for your particular decor. For example, within the larger umbrella category of ornaments, you could create sub-groups according to size (small versus large), shape (round versus snowflake), or material (glass versus wood). Garland, wreaths, and lights could be sorted into indoor and outdoor, and so forth. It's helpful to sort things into sub-groups and store similar items together because it makes it easy to find what you're looking for.
Purge unwanted or broken items. 
Go through each of the categories you just sorted and toss anything that's broken (unless, of course, it's something of sentimental value that can be repaired). Now channel your inner Marie Kondo by asking yourself which items no longer spark joy for you. Think about your current style and which items you tend to gravitate toward each holiday season. Set aside anything you decide to donate into a separate pile. 
Repair or replace old or missing parts.
Once you have a handle on what items will remain in your holiday decor collection, this is a great time to repair or replace any missing parts on the items that you've chosen to keep. Replace missing bulbs on your string lights, clean old wax out of menorah candle holders, and zhuzh up your wreaths or garlands with fresh ribbon, if needed. Doing this prep work now will make decorating for the holidays more fun later.
Stock up on sturdy containers.
Now that you have a visual overview of the entirety of your decor, determine what kind of storage containers, and how many, you'll need to store it all. Though it's an investment up front, you'll be using these containers for many years to come, so it's definitely worth it over the long run. Opt for sturdy plastic storage bins over flimsy cardboard boxes, which are likely to break down over time. Choose containers that come with airtight lids to protect your decorations from mold or mildew, especially if you're storing things in the garage or basement. 
Be sure to consider the size and shape of your items and choose appropriately-sized containers. For example, wrapping paper requires a specific type of storage bin due to its awkward length. Likewise, you might want to keep your entire ornament collection in one large bin, but you may need several smaller bins to nest inside for each of your sub-groups. (Hot tip: Avoid having to untangle string lights each year by wrapping them around a clothes hanger or scrap cardboard when you store them.) Don't forget you'll also need to label your containers — masking tape or painter's tape works great for this. 
Drop off your donation items. 
Once you've designated which items you're ready to part with, bag or box them up and head to your preferred donation center. The Goodwill and Salvation Army are good options, but there are a number of charities that accept donations, such as Habitat for Humanity or PickupPlease. 
You could also call around to local senior centers or churches to see if they are in need of donations. Another option is to check Facebook and see if your area has a "Buy Nothing" group. Essentially, you post pictures of the items you want to give away for free, and people can comment if they see something they like. It's a great way to connect with your community and actually see who will be enjoying your decor. Wherever you decide to donate, it's a great way to kick off the holiday season in the giving spirit.