Make Your Dreams of a Clutter-Free Bedroom a Reality with This 20-Minute Decluttering Plan
We independently select these products—if you buy from one of our links, we may earn a commission. All prices were accurate at the time of publishing.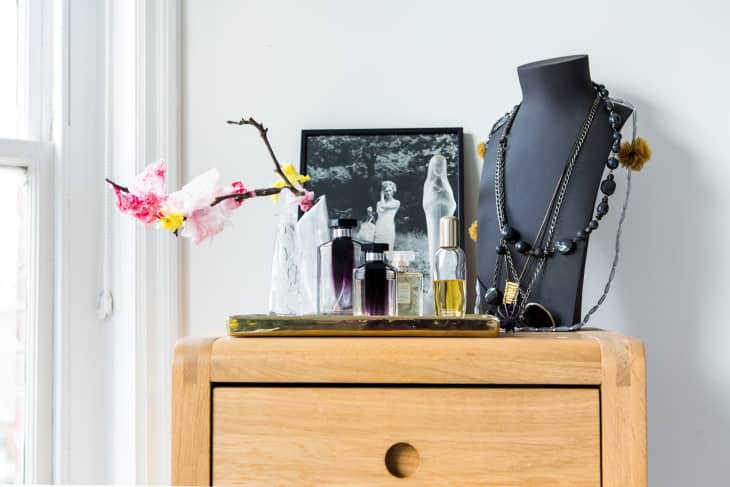 Apartment Therapy's Decluttering Cure is a free two-week decluttering program that'll help you achieve a tidier home. Sign up here and get all 14 assignments delivered to your inbox.
As the place you start and end your day, the bedroom should be peaceful and tidy. After all, the environment we rest in — and the way we fall asleep — has an impact on our overall sleep quality. That includes the temperature, lighting, and nearby distractions, such as the objects that surround us.
Follow Topics for more like this
Follow for more stories like this
When our bedrooms are untidy and cluttered with clothes, drinking cups, and trash, we can feel a bit messy and out of sorts too. Today, let's restore some order in our bedroom so that it can be the restful retreat you so deserve.
Day 8: Declutter the bedroom for 20 minutes
Just like before, we're going to put aside 20 minutes today to declutter just one place — this time we're working in the bedroom. Make sure you have no interruptions for this allotted time. The obvious "clothes chair" aside, it can be helpful to have a roadmap to follow to guide you on where to look for common clutter clusters (say that five times fast!) in a bedroom. 
Here's where to spot clutter in your bedroom:
In and around side tables and nightstands
In and around the dresser and other surfaces
Consoles and armoires
Closets 
Hooks and storage racks
Vanity tables
Open shelves
Under and around the bed
On and inside a storage ottoman or bench
Wherever your clothes pile up, such as on a chair or in a corner of the room
Trash
Paper, such as notes, receipts, or clothing tags
Books and magazines
Drinking glasses and mugs
Remote controls and electronics
Phone chargers and cords that aren't being used
Random objects and decor
Dingy or old sheets and linens
Hangers or sleeves to take back to the dry cleaners
Safety pins and bobby pins
Out-of-place grooming supplies, makeup, or jewelry
Clothes piled and draped where they shouldn't be
Socks
Shoes, handbags, and accessories where they don't belong
PRO TIP: Once the order is restored, consider keeping clutter at bay by adding some organizational tools to help you form better habits. Having a little decorative box on the dresser to hold your safety pins and bobby pins will make it easier for you to return these items to one place. Invest in some under-the-bed storage or additional hooks to hold things instead of letting them accumulate on the floor or the chair. Here's one solution to the ever-relatable "clothes chair" problem.
Where are your common clutter clusters in the bedroom? Tell us in the comments.
More ways to participate in the Decluttering Cure:
The Cure Program is a tradition here at Apartment Therapy — it happens every January, April, and September. Click here to learn more about the year-round program and when to sign up.