How to Find Your "Clutter Problem Area," According to a Pro Organizer
We
independently
select these products—if you buy from one of our links, we may earn a commission. All prices were accurate at the time of publishing.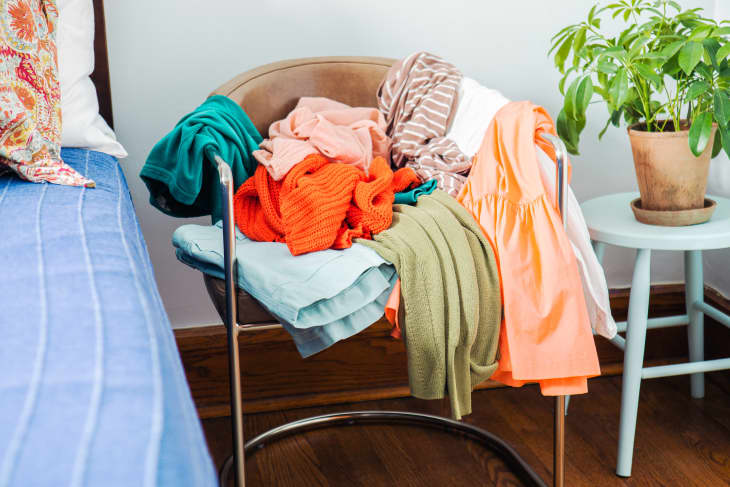 Apartment Therapy's Decluttering Cure is a free two-week decluttering program that'll help you achieve a tidier home. Joining us today is guest cure-ator Rebekah Love, a professional organizer, writer, creative, and founder of Organize For Love.
Clutter grows in so many different places, but it thrives in the hidden spaces of our homes. Out of sight, out of mind right? Well, not anymore. 

Today, we're going to put our focus on identifying a problem area that needs fixing. 
Day 11: Identify a clutter problem area.
The assignment is simple: We're going to identify a clutter problem area in our home, whether that's something visible or hidden from us, and address it. A good indicator of where to start is to think about the place — or thing — you've been ignoring, shares Rebekah Love, of Organize For Love and today's guest cure-ator. 

For example, while it's a place you visit daily, the closet can be your clutter problem area for many reasons, shares Love. You could be hiding something away, holding onto items you no longer need, or avoiding it completely because it's become an eyesore. What's more, it could be a hidden spot within your closet, like where you keep your accessories, or even a place where you've been accumulating gifts you received, but don't necessarily want or need. 
If you have several clutter problem areas, Love says that it is best to prioritize tackling what'll have the biggest impact on your life — specifically space-wise. "Sometimes we need to create space to work on our other spaces, so think about where you could maximize your support for the future," she says. 

Once you've identified what area you want to focus on, it's time to declutter it. We recommend starting small, removing at least three major items from the space, and deciding if they need to be relocated, donated, or discarded (make sure to use your outboxes for this!). Or, if you feel like you can tackle the entire spot today, go ahead!

Now that you're aware of where clutter grows in your home, you'll want to be mindful of it going forward. Set a reminder on your calendar for regular decluttering sessions to chip away at the mess. This can be a daily, weekly, or bi-weekly reminder — whatever works best for you.

PRO TIP: Find the fix. Now that you know your problem area and spent time decluttering, it's time to implement a system or solution that'll help keep clutter at bay. For instance, a common clutter issue is cords, and we have just the solution: a cord management box (like the one that's featured in our Organization Awards).

Where's your clutter problem area? Share it in the comments.
More ways to participate in the Decluttering Cure:
The Cure Program is a tradition here at Apartment Therapy — it happens every January, April, and September. Click here to learn more about the year-round program and when to sign up.