How to Keep Your Home Clean and Clutter-Free, According to a Small-Space Expert
We
independently
select these products—if you buy from one of our links, we may earn a commission. All prices were accurate at the time of publishing.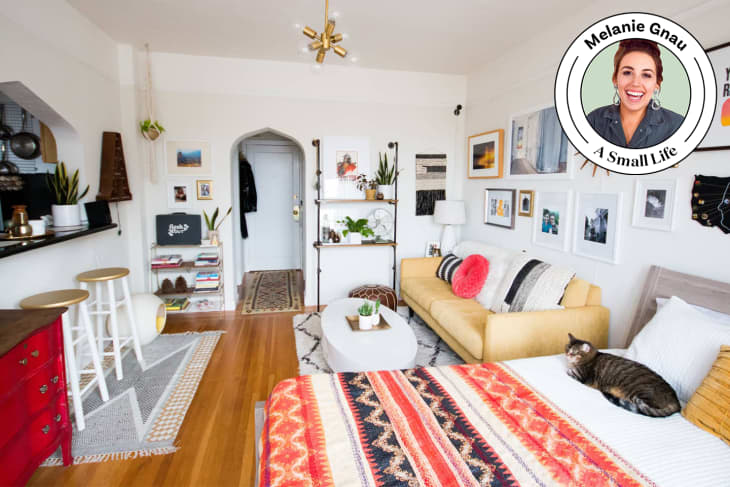 Happy Place is a brand-new editorial series dedicated to helping you live your happiest, healthiest life at home. Every week for 4 months, we're sharing quick, doable, and not-at-all-preachy tips that wellness pros, home decor experts, and Apartment Therapy editors actually use (really!). Sign up now to get 16 weeks of actionable advice in your inbox.
Happy Place is created independently by our editorial team and generously underwritten by Yogi® Tea.
There's no shortage of adages extolling the virtues of a clean, decluttered space. There's also plenty of science to back these axioms up. For example, one study by the Princeton Neuroscience Institute found that the messier your space is, the more easily distracted you are. Another study from researchers at the University of Minnesota found that a tidy desk caused people to make healthier and more charitable choices.
But keeping your home clear of clutter is easier said than done, especially if that space is a small one. That's where Melanie Gnau comes in. A true expert on small spaces, Melanie helps everyone from cramped apartment dwellers to folks who live full-time in RVs find solutions that work for them.
"I truly believe that having a space that both looks beautiful and functions well is one of the keys to living your best life." She adds that achieving that "shouldn't feel like a giant chore." In other words, it doesn't have to be as involved as the painstaking Kon-Mari method.
Keep reading (and listen in) to get her best advice for keeping clutter under control —whether your space is palatial or itty-bitty — rather than letting small problems swell into hard-to-tackle issues.
No time to read? Listen to highlights from our conversation with Melaine instead.
Take Stock of Your Space — Often
Who among us isn't guilty of letting things that need fixing around the house go ignored for a little too long? And be honest: How much harder is it to tackle that fix-it list once it's grown out of control? Follow Melanie's lead and regularly re-evaluate what needs attention. What "regularly" looks like is up to you; it might be a daily check in, a weekly evaluation, or a monthly purge.
For Melanie, it means having one day a week (Sundays) blocked off for taking inventory. "When I notice something isn't working, I make a note of it and put a tiny bit of time on the calendar to research options for fixing it." But before you get obsessive about finding the perfect drawer divider or makeup organization system, remember this: "Things don't have to be complicated. The easiest solution is often the best."
We've all had that moment when we look around our space and realize we're sick of the way it looks. Luckily, mini changes— like swapping lampshades, or moving art around — can instantly make a difference.
"I like to try different furniture and accessories in different areas of my home. Take throw pillows from the living room and put them on your bed, or vice versa. Rearrange your furniture. Sometimes just moving things around in your space makes it feel exciting and new."
Set a Timer (and a Deadline)
One of the biggest challenges to cleaning and decluttering your space is the idea that you have to do it all at once. That's why Melanie suggests setting an easy-to-commit-to timer. "I like to set a two-minute timer. Maybe I'll keep going after those two minutes, maybe not, but just two minutes of putting things away is way better than nothing at all."
Tidying up daily, even when she's short on time, helps Melanie keep her space from turning into a daunting clean-up disaster. But, she adds, a deadline is just as important. "Give yourself a deadline too, so it doesn't just become one of those 'someday' projects that never gets finished."
One final tip from Melanie? Always keep a bag by the door. "As you see things around the house that you aren't using and would like to re-home, place the item in the bag. By constantly evaluating the things in your home, you're less likely to need those big, weekend-long decluttering sessions."
Ready to find your happy place? Sign up for the newsletter!