If You Only Buy One Coffee Table Book About the Home for 2022, This Should Be It
We
independently
select these products—if you buy from one of our links, we may earn a commission. All prices were accurate at the time of publishing.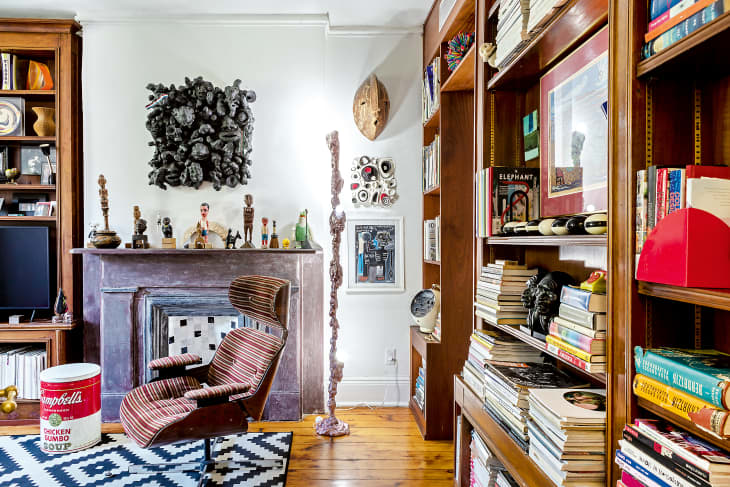 With thousands of design books out there, gracing coffee tables and Amazon listings alike, it should come as no surprise that most every topic you can dream up has been covered. Nature-inspired spaces, wellness design, and even stylish interiors featuring cats can all be found in the interior design section of most bookstores. 
What about a design book dedicated solely to celebrating black-owned homes? Authors, design duo, and real life couple Jeanine Hays and Bryan Mason spotted a void in the market for just such a book and filled it with "AphroChic: Celebrating the Legacy of the Black Family Home," which was just released iast month. Sixteen stunning home tours can be found within its pages, separated into sections including "Heirloom Homes," "Creative Homes," "Boss Homes," and "Off the Beaten Path." The spaces (the photos shown here are all snaps from the book!) are lively, joyful, and altogether chic, brimming with personality and soul. 
In addition to acting as a striking representation of Black culture, the book is packed with amazing design tips. Although it was hard for me to choose just one thing to spotlight here, the following design idea gave me a true lightbulb moment, and I thought it could be a nice (albeit very small) sampling of the wonderful advice you'll find when you pick up a copy of the book.
Interior designer Ariene Bethea's home is bursting with vibrantly-hued walls and family heirlooms. She's been known to reimagine vintage family pieces into items that fit her spaces and style. Maybe you have a few heirlooms that you feel you can't alter but aren't really your vibe, and if so, I'm guessing they're probably packed away in a dusty corner of your basement right about now. Well, it doesn't have to be that way if you follow Bethea's lead.
Specifically, Bethea didn't want her mother's vintage dinette set to meet the same fate. She grew up with these pieces and knew that she wanted to display them prominently in her home. When her mother passed, she inherited the 1965 set, but it needed some love.
Instead of keeping the table and chairs an "as-is" family heirloom, Bethea wasn't afraid to tweak it a bit to fit her office's aesthetic. She had the set professionally restored and reupholstered, resulting in the chic kaleidoscopic seating area shown here, which perfectly matches her bold magenta walls. The dinette now serves as the spot where she holds client meetings and planning sessions. 
This corner of Bethea's home goes to show that sometimes, it can take a bit of bravery and a dedication to your style to refresh a meaningful heirloom. It's well worth it though, since that special piece is more likely to be proudly displayed when it jibes with your personal style, too. If you want more inspiring ideas like this, you won't regret buying "AphroChic: Celebrating the Legacy of the Black Family Home." It'd also make a great gift for the design lover in your life.