This Is the Most Underused Setting on Washing Machines, According to Laundry Experts
We independently select these products—if you buy from one of our links, we may earn a commission. All prices were accurate at the time of publishing.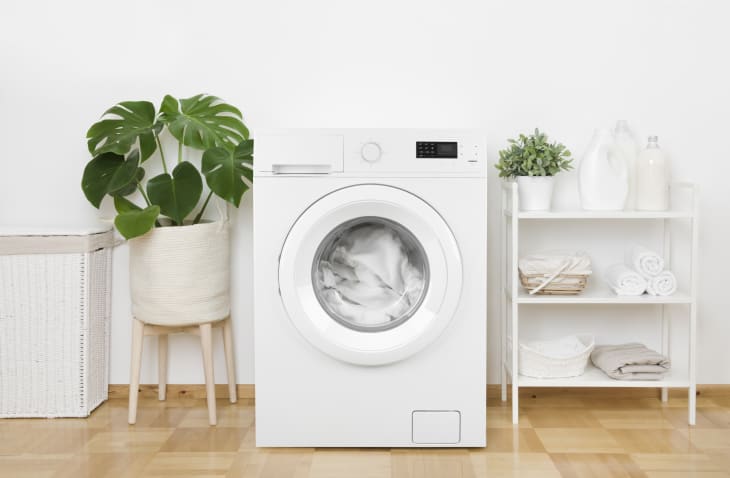 Modern washing machines have certainly taken the grunt work out of laundry, but it's often user error that gets in the way. Did a 100-percent cotton T-shirt make its way into your high-heat dryer along with the bath towels? Hope you like a snug fit. Forgot about the pair of red socks that were hiding out in a pile of white sheets? Congratulations, now you've got pink bedding. 
But even if you're taking the time to sort your clothing properly by colors and fabrics, are you sure you're using the correct wash setting for everything? There's a good chance that you're getting it wrong at least part of the time, especially if you keep hitting the "normal" setting.
Why the normal cycle is the most overused washing machine setting
"The most overused cycle is 'normal' because buyers tend to get their new washer, set it on the normal cycle, and never think to change it," says Ron Shimek, president of Mr. Appliance, a Neighborly company. (Or if you're like some people whose washers offer up too many options, it's easy to keep things status quo.) And if you've got a washer with a digital display that comes on when you press the power button, chances are good that it turns right on to normal as the default setting. "Using the normal cycle can damage some clothing or at least, wear them out quicker," warns Shimek. 
According to Maytag, a normal wash setting uses a high spin speed and lasts rather long — around an hour. Unless you adjust the other settings, normal usually defaults to warm water temperature. It's fine for cotton, linen, and other fabrics, but it's not the best option for more delicate clothing.
Normal's not the only culprit when it comes to faded clothes and misshapen fabric. "The most overused washing machine settings I've seen are usually a hot water cycle with regular or high spin speed," says Carly Campbell, CEO and founder at Mommy on Purpose, noting it's a popular setting because people — and rightfully so — equate hot water with extra-clean clothes. "This setting is great for getting rid of bacteria, but too much of it can wear down fabric and fade colors quickly," Campbell explains.
So, what's the most underused washing machine setting?
"The most underused cycle is delicate," says Shimek. He encourages consumers to read clothing labels and follow the laundry guidelines closely if they hope to keep their favorite clothes around for a while, which they can likely do if they launder delicate fabrics accordingly.
But that's not a reason to default from normal to the delicate setting for everything just to play it safe, says Campbell. "Although gentle cycles are necessary for fragile fabrics and items with delicate decorations, they won't do a good job cleaning heavily soiled clothing and bedding," she explains.
"The biggest takeaway is to read the manufacturer's recommendations on your clothes and your washer and follow the directions," says Shimek. "Machines change and fabrics change. How you wash them needs to change, too."