Derek's Comfy and Connected Corners
We independently select these products—if you buy from one of our links, we may earn a commission. All prices were accurate at the time of publishing.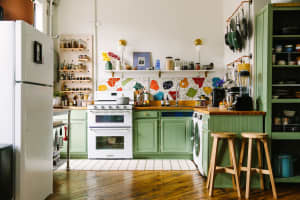 Can't-Miss House Tours Straight to Your Inbox
Keep up with our latest house tours each weekday with our House Tour of the Day newsletter
Name: Derek (aka "uofmtiger")
Location: Memphis, TN
Size: Living room (~18×18), office (10×10)
Years Lived In: 12 years
Follow Topics for more like this
Follow for more stories like this
Derek is a gentleman who understands technology and comfort in equal measure, bound together with an eclectic style that permeates throughout the home…every corner an expression of his joys and passions, as any good home should be. Just as the interior of his home exhibits both traditional and modern elements, his choice in tech gear is a partnership of yesterday's analog sounds with today's digital components. Oh, and did I mention his pair of trusty canine companions?
Apartment Therapy Tech Tour Survey:
My/our style: Cozy tech-centric with more than a touch of canine.
The inspiration for my home office/home theater: The main goal of the living room was to have a comfortable space for listening to music, watching movies, and entertaining friends and dogs.
The home office was setup with hobbies like music, movies, and photography in mind. Since the two rooms share a wall and closet, I was able to share all of the home theater equipment with the office using the extra HDMI output of a Denon receiver.
Favorite element in your space: It would probably be the headphone setup in the corner of the room. I am tall, so the Ekornes Stressless chair was a perfect choice after a long search. It has risers on the chair and ottoman that make it more suitable for my needs than most chairs. It also has a "Personal Table" that attaches to the chair that makes it a great space to work on a laptop or tablet. I use Airplay from an iPhone to send audio via Airplay to an Airport Express that feeds a digital signal to a PS Audio DLIII DAC which feeds and analog signal to an X-Can V3 headphone amp that usually feeds a pair of closed backed headphones.
I have many different headphones, but the Shure SRH940 headphones are perfect for the space since they are closed and block out most noise coming from the TV. I also have a vintage Marantz 2220B receiver in the setup for listening to FM or AM radio. It is a way for me to enjoy the room, while using the laptop, snuggling with puppies, or relaxing while listening to music.
In the office, my favorite element is the IMG Windsor chair. It is oversized and reclines like a Lazy Boy. It is perfect for leaning back and watching the TV hanging on the wall or just putting my feet up and listening to music.
Biggest challenge in designing my space: The biggest challenge in the living room was the many doorways which made it difficult to place furniture. We found that a sectional worked best for creating a cozy space while not blocking any of the doors that we use. We also added some small round side tables to take up less space.
The biggest challenge in the office was the small size of the room. I wanted the room to work for my many hobbies, have extra seating, a treadmill, and provide a place for a guest to sleep. We were lucky to find a chair that we liked that could fold out into a full size bed. The closet doors open and I have a Spirit Treadmill that folds down. The Asus LCD display is usually in front of the doors, but it is easy to swing out of the way thanks to the Ergotron mount.
I should also mention that IKEA Expedit bookshelves have helped with organizing both spaces. I have books, cables, hard drives, and more on the shelves in the office, but I display vinyl albums in front of everything for a much better look that reflects my personality.
What friends say about my space: "Killer space!! How long before your dogs stop barking?!!"
Area where there is room for improvement/future projects: I take comfort seriously, so in the living room it would be nice to replace the chairs next to the fireplace with something more worthy of lounging than the chairs in the space now.
In the office, the next thing to change out is the window treatments.
Proudest DIY (do it yourself) project: Mounting the TV in both rooms gave us a cleaner look while freeing up tabletop space.

Biggest indulgence with respect to my space: The Stickley sectional is the biggest indulgence. It was perfect for the space, really comfy, and everyone loves it… hopefully, we will have it for a long time.
Best advice about organizing or incorporating tech into the home: The obvious answer for creating a more streamlined looks is by putting equipment out of site by using a cabinet with doors. Not that I have an issue with seeing the audio and video components that bring us so much joy.
However, incorporating tech has gotten a lot easier in recent years, thanks to Apple, MOG, Netfllix, and others that are making it easy to stream music, movies, and photos wherever you want them without having to have tons of CD and movie boxes laying around.
Dream source for stuff: Stereophile, Sound and Vision, Apple, Amazon, Dwell, Room & Board, Smartfurniture, and Midtown Framers in Memphis for local art.
Home Office Hardware:
2011 27″ iMac
2011 15″ MBP with antiglare screen (also installed Windows 7 and VMWare Fusion4)
2010 Mac Mini
Gateway Desktop PC
Wacom Intuos4 Tablet
M-Audio Fast Track Recording Interface
Assorted hard drives and Buffalo NAS
Monoprice HDMI Switch
Airport Extreme
Living room home theater::
Denon 4311CI Receiver
AppleTV2
2 Emotive UPA-1 monoblock amps
Roku 2 XS
Wii
PS3
Project Debut III Turntable (on Soft Shot Hockey Pucks)
Bellari VP129 tube phono amp
Project Speedbox
Oppo 980H Universal player
Panasonic DMP-BDT100 Blueray Player
EyeTV HD
Directv HD DVR
Monster Reference PowerCenter HTS 3500 MKII
Airlink wireless security camera
Tivoli Pal Radio
Netgear 16 port switch
Slingbox HD
2 Monitor Audio Silver RS6 speakers
Monitor Audio RS LCR center channel
2 Monitor Audio RS FX surround speakers
Elemental Design A2-300 subwoofer
Samsung PN63B590 63 inch Plasma
Digicom Tilting Mount
Living room headphone setup:
Airport Express
PS Audio DLIII DAC
X-Can V3 headphone amp (with LIttle Pinkie Power Supply)
Marantz 2220B Receiver
Apple iPad (Original)
Apple iPhone 4S (for Airplay or Remote app)
Shure SRH 940, ATH M50, Sennheiser HD580, or Grado SR60 headphones
Home Entertainment:
Cambridge DACMagic
TC TCC754 Preamp
Heed Canamp
Sony STRDH520 Receiver
Yamaha C-750 5 disc universal changer
Nintendo NES
Atari 10 in 1 TV games
Asus VW266H LCD Monitor on Ergotron MX Desk Mount LCD Arm
Westinghouse 42 inch LCD on Cheetah Wall Mount
AKG K701 headphones
Logitech Z-680 speakers for movies
2 NHT SB2 speakers for music
Furniture:
Living room:
Ekornes Stressless Ambassador
Stickley 200 Sectional
Target Nolan storage ottoman with flip top
BDI Avion 8927 enclosed cabinet
Accessories:
LIving room:
Crosley 302 Red Desk Phone
Hamony 880 Remote
Color selectable LED Candles with remote
Crate & Barrel Rolan Clock
Lighting:
Color selectable LED Candles with remote
Crate & Barrel Metro II Floor Lamps
Littlite gooseneck lamp
Hunter Ceiling fan with remote
Melrose International Metal and Glass Lanterns
IKEA Antifoni
Organizing Tools/Accessories:
IKEA Lekman boxes
Storage ottomans that also work as furniture
Belkin Conceal Surge Protector
Mesh roll out drawers
Additional Elements:
Wall Art in living room are David Lynch creations
Hatch Show Print Pictures in Office
Elvis with Panda poster signed by Alfred Wertheimer in office
Photo Tray from Pier1
Walmart blanket with photos of pups
Fender T-Bucket Acoustic-Electric Guitar
K&H Cuddle Cube medium pet bed