Design and Paint a Custom Rug with Vecco!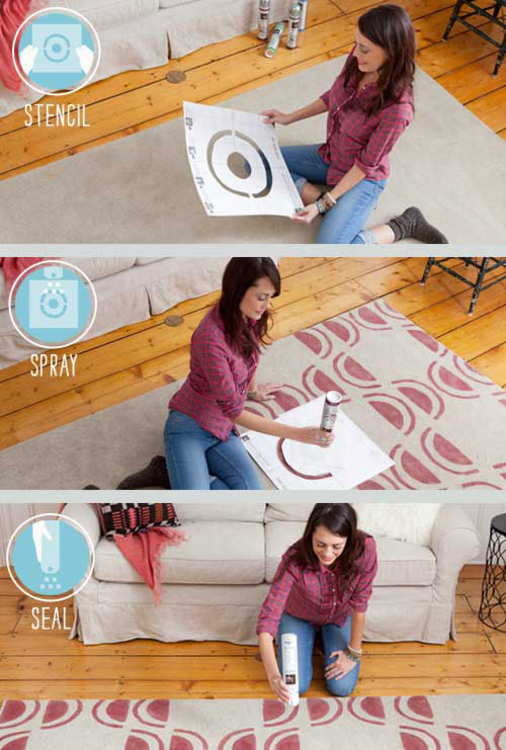 We love DIY projects because of the sense of satisfaction they give us, because
To get us started, Vecco is offering Apartment Therapy readers free shipping on all the materials you need to create your own custom rugs.
Apartment Therapy readers will receive FREE SHIPPING on any Vecco purchase. Use code FREESHIP at checkout on VeccoStudio.com!
There are three simple steps for creating a custom rug with Vecco: Stencil, Spray and Seal (see the diagram above). Vecco has a wide selection of individual stencils to choose from. You can use pieces and shapes of the stencils to invent your own patterns, and they also have blank stencils you can use to cut your own designs.

You can select your colors from Vecco's range of 13 unique hues, and even mix colors to create custom blends. If you make a mistake while spraying, you just wait for the design to dry and then vacuum it right off — but once you use Vecco's special sealant, the design is permanent, even for high traffic areas!

Vecco has materials and kits for welcome rugs (18" x 30"), small area rugs (3' x 5') and large area rugs (5' x 8'). Each kit includes a rug and all the stencils, colorants and sealant you need to create your own custom design. With so many different customizable pattern and color options, there's no limit to the rugs you can create using Vecco, including personalized rugs for a child's room, a small rug for the foot of a staircase, rugs for the kitchen, living room, bedrooms, etc.



Apartment Therapy readers will receive FREE SHIPPING on any Vecco purchase. Use code FREESHIP at checkout on VeccoStudio.com!



Images from Vecco