Design Ideas from Shop Interiors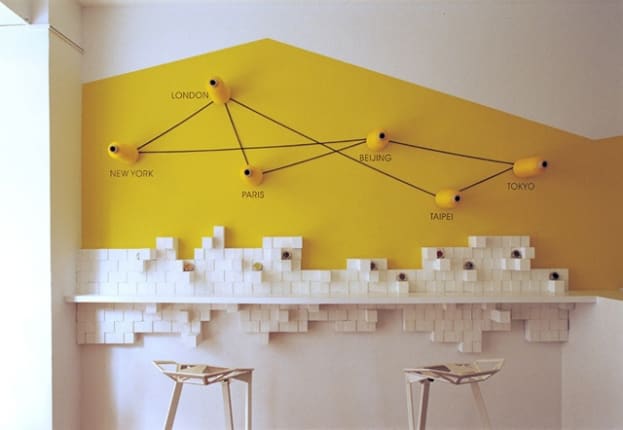 When you're looking for ideas for displaying collections or choosing a lighting scheme, turn to retail stores. Store designers try to grab your attention with color, pattern, lighting, and unexpected architectural details, so they can be great resources of inspiration. Browsing through the portfolios of retail architects or checking out shop interiors online and in-person can open up space for thinking about design in a new way.
Alessi
Flaship Store, Milan
Designer: Marti Guixe
Takeaway Ideas: The floor in Alessi's new flagship is a patchwork of geometric reds, blues, and purples. Get a similar look with paint.
Colette
Paris
Designer: Masamichi Katayama of Wonderwall
Takeaway Ideas: Tiling both the floor and the counter in the same pattern doubles the impact of the pixelated pattern, while the upholstered stools set it off even more.
ABC Cooking Studio
Tokyo
Designer: Chikara Ohno of Sinato
Takeaway Ideas: If you're working with a strong geometric/angular layout, consider hanging drop-down lighting from a ceiling grid.
Unknown Union
Capetown
Designer: Rafael de Cardenas
Takeaway Ideas: Shelving units in bright colors give the room its personality, and gradient color sets off the scheme even more.
Aesop
London
Designer: Ilse Crawford
Takeaway Ideas: The glossy black stairwell and chair set off the mint green walls and the neutral floors and furniture.
Opus Shop
Taipie
Designer: Paradox Studio
Takeaway Ideas: A patterned, textured "chair rail" and a swath of yellow paint differentiate this space.
Octium Jewelry
Kuwait
Designer: Jamie Hayon
Takeaway Ideas: A curtained wall can create the illusion of space beyond, while metallic lamps reflect light.
Photo: Opus Shop by Paradox Studio