Watch Diane Keaton KonMari Her Closet on Instagram
We independently select these products—if you buy from one of our links, we may earn a commission. All prices were accurate at the time of publishing.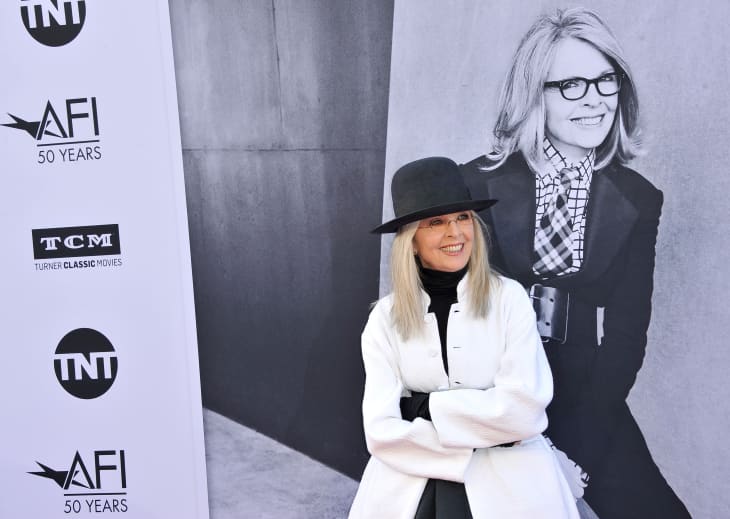 Just when you thought Diane Keaton couldn't get any more Diane Keaton-y, the iconic actress hits a new high. Sporting head-to-toe black and a hat that reads "KOOK" across the front, the legendary actress posted a video on Instagram of herself cleaning out her closet. And clearly, trying to KonMari her belongings is just as stressful for Keaton as it is for us normals. 
Follow Topics for more like this
Follow for more stories like this
"It's been a long time. I mean, I have a lot of clothing, and it's time for me to let it go," says Keaton, standing in her hallway, a sea of neutral tones with a lineup of her trademark hats in front of her. "And I'm going to give it to the Goodwill, because this is ridiculous."
Captioned "Diane By Design: Diane Goes To Goodwill" (now that's an HGTV show we'd definitely watch), Keaton writes that she's lived in her home for three years, and her closet is overwhelmed with clothing. 
"It's time for me to get over myself and let it go! I don't need all of this," she tells the camera. 
Leading us into her accessories closet, Keaton opens up drawers and begins to pull out her designer goods. 
"There's a few little small items in here I'm going to show you, okay?" she says, opening drawers and pulling out everything from belts to jackets that probably cost more than the contents of our bank accounts. Yanking shoes off the top row, she grabs a pair of tan boots ("These I can't wear at all because my feet have gotten bigger") and platform leather boots with giant orange and red flames cascading up the sides ("Who was I kidding when I bought these?").
"This is a lot of work," says Keaton, giggling to herself. "This is a really fantastic experience." Adding that she used to go to Goodwill shopping with her mother all the time, Keaton shoves shoes and accessories into a white garbage bag. "This is pile one!"
Soon, we see her crossing 26th Street in Santa Monica toting several handfuls of white garbage bags filled with goodies as she heads to Goodwill. With her mask on, she walks up to the storefront only to discover that it's closed due to coronavirus. "Oh damn! Hello? This is insane," she says. Hey, at least vintage fanatics will know where to hunt for Diane's duds after the quarantine is over.