Did You Notice This Stranger Things 2 Error?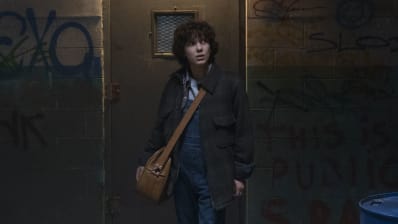 (Image credit: Netflix)
This post contains spoilers. Look away if you have yet to binge watch Stranger Things 2.
One of the many things people love about Stranger Things is how faithful it is to its time period. And whenever something is as detail focused as this show is about the '80s, the internet is going to find all of the little things that are not quite right. And this season, there was one big, skyscraper sized mistake—the messed up the Chicago skyline.
Now before we go on, I should acknowledge that I am from Chicago. And as someone on Twitter once pointed out, there's nothing Chicago people love more than being from Chicago. Which is true. So, while generally I think one should let things like this slide (this is a show about monsters and stuff after all) it is my honor bound duty to spread the news.
The good folks at DNA Info Chicago first reported the Lake Michigan adjacent error. When Eleven runs away to Chicago, she encounters all the '80s movie style scares of a big city. In the midst of her various run-ins, the show features a wide shot of the city's gorgeous skyline....that basically looks like the skyline today.
DNA Info breaks down why the skyline looks a little more Chicago PD than Ferris Bueller:
The Trump International Hotel & Tower near the middle of the skyline shown here was two decades from being built. Same with the Blue Cross Blue Shield Tower, which was finished in 2010. The Franklin Center near what's now called Willis Tower was built in 1989, and Two Prudential Plaza opened in 1990, six years after the events depicted in the episode take place.
While I'm sure this does nothing to damper the joy of most Stranger Things fans, but for all Chicago based fans, isn't it nice to feel seen?