The Dirtiest Place In the Airport Apparently Is Not the Bathroom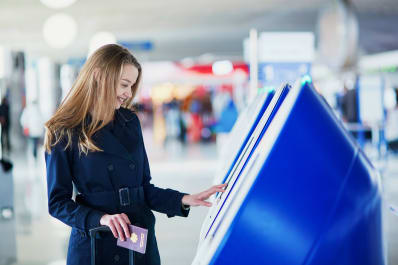 (Image credit: Ekaterina Pokrovsky / Shutterstock.com)
Have you ever gotten sick after traveling? There is a pretty high chance you're going to answer that question yes. Airplanes, airports, cabs, and buses are always full of germs. On top of that, when you fly, it opens up your sinuses and that is like inviting a cold to take home!
There are places you might try to avoid while traveling, but you actually might have been avoiding the wrong places. Airport bathrooms seem like the obvious offenders when it comes to germ breeding grounds, and you're not wrong, they are gross. But airport bathrooms aren't even close to being the worst place. You have to figure, everyone is assuming the bathroom is full of germs, so they avoid touching things. Whereas, there is one place in the airport you touch without any hesitation: the self check-in kiosk.
According to a recent study, Texas-based company Insurance Quotes reports that the check-in kiosk if the biggest offender. They ran 18 tests across 6 different surfaces over the busy holiday season to come to their conclusion.
The study was looking to see which surfaces had colony-forming units of bacteria and fungi. They tested the self check-in area, the water fountain button, lavatory flush button, tray table, seat belt buckle, and airline gate bench armrest at Hartsfield-Jackson International Airport in Atlanta.
The study found that:
With mass amounts of traffic, self check-in kiosks are the quick stop for many flyers. The kiosks may offer more convenience, but at what cost? According to our research, the average self check-in screen contained 253,857 CFU – over 13 times more than the average CFU of an airport water fountain button. One check-in screen recorded over 1 million CFU. In comparison, an average of only 172 CFU are found on toilet seats.
The types of germs found in highly trafficked areas of travel are: gram-positive rods, which are probiotic germs, but can also become pathogenic. Gram-Positive Cocci, which can cause infections that contain pus. Gram-negative rods, which are typically found in hospitals. Bacillus, these are the bacteria that cause food to spoil and can create disease, though helpful members of the bacillus family can create antibiotics. And yeast, which is commonly found on human skin and spots of moisture.
The germs most commonly found on the bathroom flush button, self check-in kiosk, tray table, and seat belt buckle are those pus-loving gram-positive cocci! You're definitely going to want to carry hand sanitizer next time you travel, right?
H/T: Conde Nast Traveler