This Disney Fan Spent 8 Months in Quarantine Creating an Entire Theme Park Out of LEGO
We independently select these products—if you buy from one of our links, we may earn a commission. All prices were accurate at the time of publishing.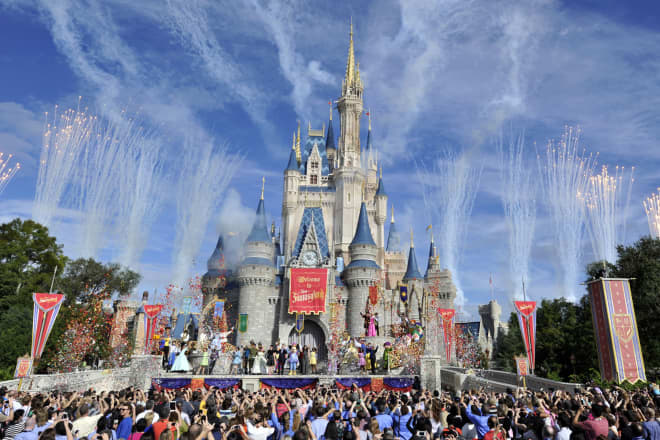 If the extra time at home due to quarantine inspired you to take on a new creative project, you're far from alone. One Disney fan upped the ante on your average quarantine project by creating an entire Disney World replica made out of LEGO, and the level of detailing is truly the stuff of fairy tales.
Follow Topics for more like this
Follow for more stories like this
Reddit user @toadallytoad shared a photo of her dad's magical creation, writing, "My dad has spent 8 months making his own Lego Disney World. He worked really hard on it and I think it's pretty cool." Naturally, comments began rolling in to marvel at his elaborate miniature park, which features many of Disney's most iconic rides, characters, and structures that fans will instantly recognize.
From the garden of Mickey-themed flowers that greet you as you enter the gates of the Magic Kingdom to the Walt Disney World Railroad's Main Street USA station, the fan used both Disney Legos and similar sets to create the different themed lands that make up the most magical place on earth. There's a Star Wars land, a Pirates of the Caribbean-themed area, a Haunted Mansion-themed area, and more, of course with character sightings just about everywhere you look.
Fans were quick to request more photos of the pixie dusted Lego park, suggesting that he create a photo book or YouTube video to give a more detailed look at the process behind creating such a realistic replica of the famous theme park. In the comments section on one post, his daughter shared that he began working on the replica at the start of lockdown, taking at least an hour each day to build while he watched TV. She also shared that he found most of the items on eBay, and began building from there.
While the posts received thousands of comments from strangers, it seems the poster's two-year-old niece is the biggest fan of all. Of course, Disney fans have been showcasing their creative sides quite a bit during the pandemic—a Texas man also created his version of a Disney LEGO park, while others have recreated Disney rides in their homes, and others have infused a bit of Disney decor into their design schemes. Proof that even if you can't get to the theme parks for a while that there's no shortage of ways to enjoy some Disney magic into your days.