I Turned My Mom's Basement Junk Into Boho-Chic Decor for $0 (Yes, Zero!)
We
independently
select these products—if you buy from one of our links, we may earn a commission. All prices were accurate at the time of publishing.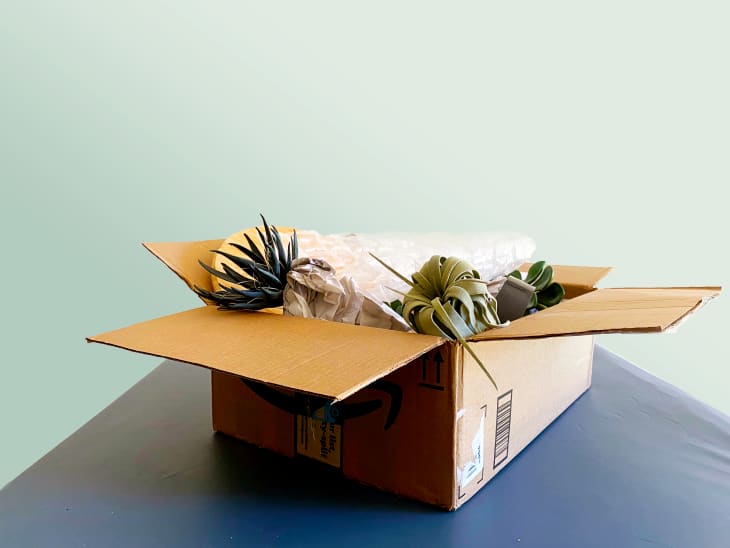 Earlier this year, we had a wild idea: Let's send mystery items to some of our favorite DIYers, give them a dollar limit for their supplies, and see what they come up with. The results were seriously impressive—ranging from a busted clock turned into cute propagation stations to a blah brown doormat transformed into a rainbow delight. All were documented by the makers on video so everyone could see the process in action.
My mom watched every week, and loved every redo. And then, she had an even wilder idea: What if she sent me a surprise item to redo? She'd tap into her basement storage—where she had old decor items waiting to be donated or tossed—to send me something, so the only money spent would be on shipping.
The idea could not have had better timing. Now that we're all sticking close to home during quarantine, I knew I wouldn't be able to see my mom for Mother's Day. This felt like a project that we could do to celebrate even though we're many miles apart.
The box my mom sent was packed totally full. I was curious, but I left it in the hallway for a couple of days as a safety precaution. Once I opened it, here's what I found: a bamboo lazy Susan, a black plastic light, and a bunch of faux succulents. (And some hand sanitizer. Thanks, mom!) I'd need to use one of these items in my redo.
In social distancing times, I'm trying to minimize trips out to the store, and as many deliveries as I can. So just like my mom, I wanted to "shop" my house. I hoped that my stash of paint, tape, brushes, markers, ribbon, and more would yield some ideas.
Unfortunately, I didn't have as much as I thought I did. Bamboo is tough to paint and stain, since it doesn't really take on color well, so that was out of the question. And my acrylic paint wasn't going to cut it on the slick surface of the light or the faux succulents. Fortunately what I did find was a metal wreath I'd previously picked up at the dollar store—same one I used to make this table centerpiece—and some cotton twine I had from Home Depot. I also had some basic supplies like wire, scissors, and glue.
All seemed like the perfect recipe to turn the collection of faux succulents into boho-style decor, using some basic macrame knots and a lot of patience. You can see what I made (and what my mom thinks of it!) in the video above. Sticking to what we already had helped both of us tap into our creativity—and it made me feel good to create something fresh and new from something my mom had long ago gotten tired of. We may be stuck in our respective homes this Mother's Day, but this is an activity we were able to do together all the same.