6 Smart Things DIYers Stock Up on During the Holidays (That Aren't Holiday Decor)
We
independently
select these products—if you buy from one of our links, we may earn a commission. All prices were accurate at the time of publishing.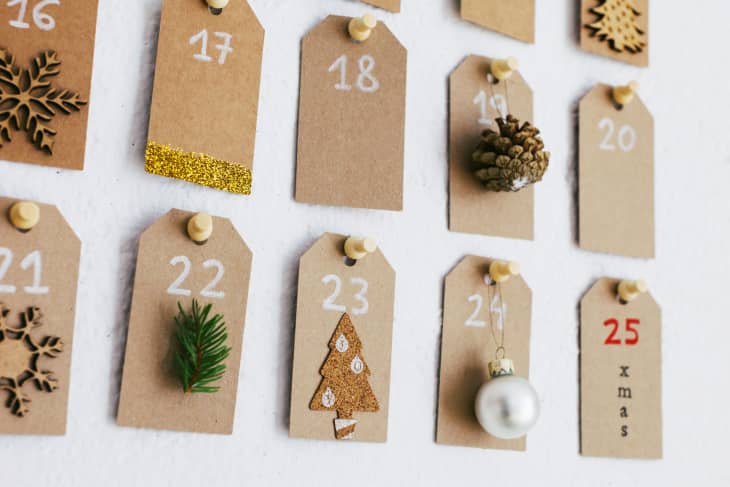 The holidays are a perfect time for crafting. It's the time of year when home decor and gifts especially benefit from a personalized touch, whether that creativity extends to something as simple as cookie icing or as intricate as a front-yard display. And given that it's also the end of the year, it's a great time to take stock of projects past, present, and future. What supplies do you have, and what do you need? As DIYing converges with planning—and supplies tend to go on sale—now is the chance to stock up. 
"DIY is typically less expensive than hiring a professional, but that does not necessarily make it cheap," Stacie Abdallah, content creator of Stacie's Spaces, says. "Things can add up pretty quickly, so it is important to remain vigilant to save money where you can." Gbeke Omosebi, the blogger behind Simplicity for Designs, agrees, noting that it's also an opportunity to tally what existing supplies need to be replaced or upgraded. "Tools are bound to get worn out," she adds. 
If you're wondering where to direct your budget as you look toward the new year, let Abdallah and Omosebi lend their advice. Given that they've meticulously updated their homes themselves, they have plenty of experience deciding which items are worth buying now to ensure that your dollar is stretched later. "I get so excited when I am planning a project and realize that I already have most of the supplies that I need to complete it," Abdallah says. 
Read on for the six things they pay attention to when holiday sales and end-of-the-year plans get underway, and get ready to fill your cart. 
"During the holidays, I slow my huge home improvement projects down but work on simple ones like repainting doors, painting walls, or refreshing baseboards," Omosebi says. She recommends buying paint in bulk, if doing so leads to a lower overall price, so that it's possible to do these upgrades over time without multiple trips to the store.
Abdallah echoes this, and says that having her staple paints on hand makes it easier to accomplish projects in the winter. "I can stay nice and warm indoors and paint," she says. "I also love to have a good stockpile of spray paint at my disposal."
…plus, everything that you need to actually paint
Besides paint, Omosebi also recommends grabbing the tools you need to actually do the work. So she'll add brushes, trays, tape, and drop cloths to her list, if she notices that those are running low, too. 
The necessary details that help a "before" become an "after"
Maybe it's easy to remember paint and related tools as a quick-and-easy refresh for next year, but if you're planning on doing other upgrades—like, say, tiling—don't forget the details around that plan. Omosebi notes how much she has of these products before buying more during the holidays, and that includes items like caulk, wood filler, or spackle. "These items are good to make sure you have," she says. "I use a lot of these items to finish up projects so it's important I stock up."
Another thing she never forgets to own multiple versions of to get the job done? Gloves. 
The boring stuff you need for everyday maintenance
This time of year often focuses on the big-picture changes we hope to make in the new year—like a refreshed bathroom or a bolder kitchen—but Omosebi also remembers to purchase things she'll need no matter which projects are coming. This includes sales on lightbulbs, vacuum filters, chalk, and pencils. "I'll make a note of whether I need common tools like a hammer, laser-level, or nails, too," she adds. 
"I really enjoy doing projects that focus on organization during this time of the year," Abdallah says. "It may be because of the influx of toys and clothes, but I like to be prepared and have a place for everything to go. Our toy closet is something that I work on a lot during this season, whether that be implementing new organization tools or DIYing an element of it for aesthetics." Maybe you've noticed that your living room can use some streamlining, or perhaps it's finally time to tackle a cluttered closet. So, if you've scrolled through sales noticing baskets, clear bins, or labels, now is the time to grab them. 
Now's the time to test your tools to see what works and what's past its prime. "Power tools are usually sold in combo sets, which allows you to build collections," Omosebi advises. "It's a good idea to get tool accessories and building materials, like drill bits, sanding sheets, and protective gear." If you've been using the same tools for a number of years, she also recommends researching whether new ones are on sale. Lastly, Omosebi buys extra battery packs that might be at a discount as well, anticipating how frustrating it would be to stop mid-project to get a new one.