I Have 30 Seasonal Wreaths, and I Swear by This DIY Storage Solution
We
independently
select these products—if you buy from one of our links, we may earn a commission. All prices were accurate at the time of publishing.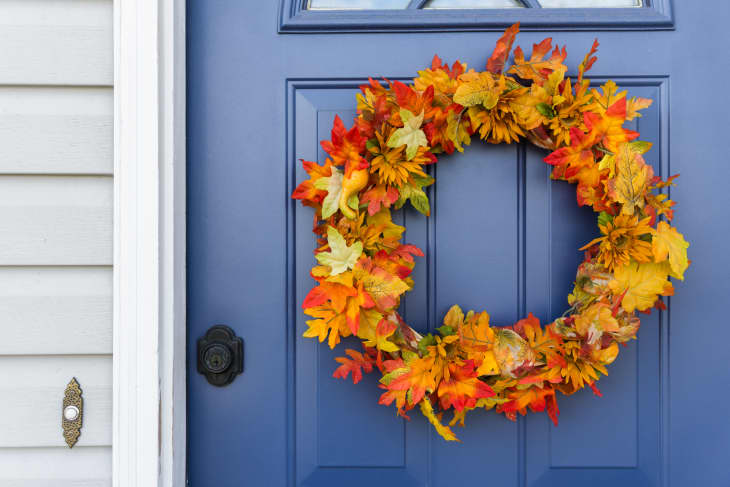 When I was younger, I remember going to a craft fair and falling in love with wreaths made of dried flowers and seeing how they could decorate a place. Today, one of my favorite ways to transform my decor in different seasons is changing out wreaths both inside and outside of my home. Whether you like to make your own wreaths or purchase them, you may end up acquiring quite a collection over the years — or at least I sure have.
After scoring a deal on marked-down artificial wreaths from Michael's last year, my collection grew to 30 wreaths and I realized some better organization was required. But, I didn't want to spend a high price tag on multiple wreath storage boxes and needed a system that made it easy to see what I had in stock.
That's when I came up with a DIY storage hack that you can use too with materials found at a hardware store near you. This is what you'll need: a hammer, PVC pipe (I purchased a single 10-foot pipe), 4-inch white plastic J-hook hangers, nails, and vinyl-coated wire. I found everything at The Home Depot.
First, you need to allocate a space in your home large enough to hang PVC pipe that will fit all of the wreaths you have on hand. It's even better to plan for a little extra space with your wreath hanger in case you buy more later. With the basement as my chosen location, I designated a corner with overhanging wood beams where I could nail the plastic hooks and then suspend the PVC pipe without it being in the way. 
I used a total of four plastic hooks and separated them evenly to support the weight of the wreaths. Each hook came with two nails, which were then used to secure each plastic hook to the wooden beam. I needed a lot of hanging space, so there was no need to cut the 10 feet of PVC pipe purchased. If you do want something shorter for your home, sometimes the hardware store will cut the PVC for free if you tell them the length you need.
Once the PVC pipe was suspended with the plastic hooks, I cut 36-inch strands of coated wire to then twist around each wreath to hang from the PVC piping. With the flexibility of the coated wire, it made it easier for bending around the various sizes of wreaths. It was also more user-friendly taking them on and off the PVC pipe rod.
For around $50 or less at a hardware store, you can feel more organized with your wreath collection. What's great is this storage solution isn't too expensive, it's customizable for your space, and it allows you to see what you have as you interchange wreaths from season to season.