DKNY Home: Designer-Inspired, Fashion-Driven Bedding
Your bedding makes a statement about you, whether you want it to or not. There's the I Don't Have Time, I Don't Care bedding, the Hold On, I'm Suddenly 30 and I'm Not Ready bedding, and conversely, the My Grandma Has These Sheets, Too. Is That a Problem? bedding. But for those stylish, savvy individuals, there is another option: a bedding collection defined by detail and color, one that speaks to your own distinctive style — a style that banishes all the rules. ">DKNY Home offers seven distinctive bedding collections to suit every whim and fancy...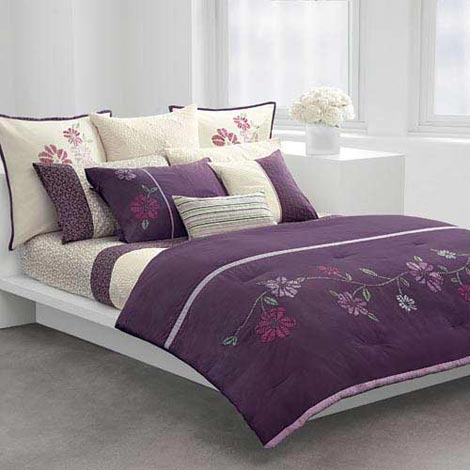 Not afraid of color? Then DKNY's Full Bloom Collection is your match made in heaven. Inspired by DKNY ready-to-wear, Full Bloom has a vintage-inspired print with oversized embroidered flowers in a lush color palette of plum and ivory. Along with 350 thread count cotton sateen sheets, the collection includes DKNY's signature chrysanthemum floral quilt, a super-soft lofty duck down comforter with delicate embroidered detailing, and flirty decorative pillows. Purple is the color of royalty, as you know, so this collection will make you feel like a queen. (No eye-rolling, please. We take our pampering very seriously, and think you will, too, after you've slept in this bed.)
If you're a romantic, you'll probably want to cover your bed in DKNY's Lilac Shadow Collection. It's soft and perfectly feminine in shades of mauve, lilac and taupe on creamy 350 thread count cotton sateen. Abstract floral patterns offer some graphic touches, while unique sewing techniques add texture and charm. Curl up underneath the comforter with a pot of tea and a book and you have the perfect Saturday morning!
This ain't your Grandma's garden. The traditional garden motif gets a sophisticated update in the nature-inspired artistic design of Urban Vine Collection. It's understated and simple without being dull. The pale greens and flowers embroidered in a mix of organza and ribbon keep it soft and feminine, while the bronzed vines sewn with metallic thread throw in a touch of glam.
Crisp, unfussy blues and browns make the ColorBlock Blue Aire Collection just right. It's not too girly, not too masculine — just chic. Horizontal pleats and two-toned sheets hold their own against a floral trim, and the interplay of textures adds depth and drama. The overall look of the rust, chocolate and ivory color palette is understated, yet warm and confident.
Provencal-style charm updated for the modern woman. This is not for the faint-hearted. (At least not in matters of home decor. Country picnics, love blooming on the French countryside... that's another matter entirely.) The DKNY Wildflower Field Collection features vibrant cherry-red wildflowers playfully scattered across ivory cotton sateen. Layers of textured chrysanthemums, tiny pansies and bold stripes all say "I'm a country girl with a bit of a wild side." Proceed with caution!
Botanicals are all the rage now, and the Floral Valley Collection pays homage to vintage botanical drawings while sweetly bringing it up to date. Pretty shades of green and brown play nicely on a bed of soft ivory cotton sateen. It's playful, yet polished, and the single line of flowers stitched down the center of the duvet cover keeps the design from becoming too overwhelming.
We love organic sheets because we sleep better knowing they're healthier for us and for the planet. DKNY's Organic Pure Comfort Stripe Collection is made of organically grown cotton and sustainable dye stuffs, and it's been washed for extra softness. Striped sheets, textured quilts, and fine details like hand-stitching and fabric-covered buttons go way beyond the boring standard white and cream that people have come to expect from organic bedding. Eco can be stylish, and this collection proves it.
Comments have been disabled.