These Clever Products Make Bathing Your Dog Less Stressful for the Both of You
We independently select these products—if you buy from one of our links, we may earn a commission. All prices were accurate at the time of publishing.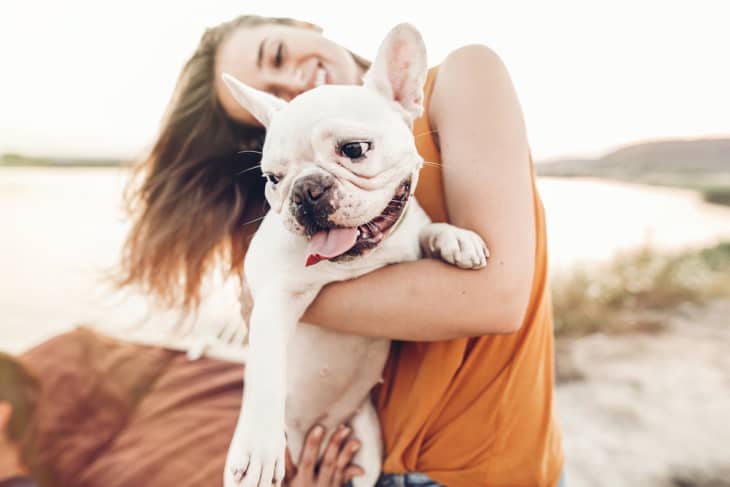 Bath time is not the easiest part of being a dog parent. Even with the rare dog who enjoys being bathed, there's still potential for chaos and mess. That's why Uncommon Goods offers two products specifically for dog baths: a bathing glove and a "slow treater."
Both are made of nubby blue silicone, used in cleverly distinct ways. The Aquapaw bathing glove attaches to a faucet or hose to work as both shower head and scrubber in one. You hold it in one hand, leaving your other hand free to hold your dog steady. By opening or closing your hand around the glove, you can also control the flow of water. The product description promises that it's "as gentle as it is efficient."
Reviews for the bathing glove are largely positive and say that it's made bath time calmer for humans and dogs alike.
"This has made bathing my dog so much less stressful," wrote one reviewer. "It is quiet and I think almost calming, like maybe it feels like a massage?! I can also tell she gets cleaner, probably because the water actually gets through her long hair down to her skin with this."
The slow treater, meanwhile, is essentially a way of bribing your dog to stay in one place long enough for a bath.
Spread a treat across it (peanut butter, for example) and stick its suction cups to your shower wall. Your dog will be lured by the treat, and thanks to the treater's nubby texture, it will be busy for a while, giving you time to sneak in for a good scrub.
Only five people have reviewed this product so far, but apart from one product malfunction, it seems to be a hit. "I plan to buy 7 more," wrote one reviewer.
Here's to all those cleaner, less-stressed dogs!