This Controversial Trend Has Designers Cringing, and We're Not on Board Either
We independently select these products—if you buy from one of our links, we may earn a commission. All prices were accurate at the time of publishing.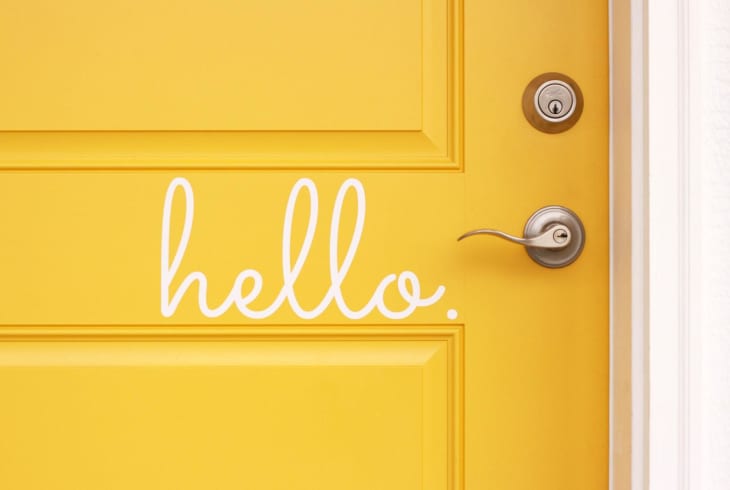 Wreaths are no longer the only thing dressing up doors, thanks to door decals, which are starting to gain some decorative traction in homes today. Maybe you've seen a front door beckoning you inside with a cheerful script "Welcome" written on it. Or perhaps you've used a friend's powder room that proclaimed itself as such in a bold, old timey font.
Follow Topics for more like this
Follow for more stories like this
While these decals might add a quirky touch to a room, many people see these vinyl stickers in the same, kind of cheesy light as "Home Sweet Home" phrases printed on driftwood or the "It's Five o'Clock Somewhere" sign that's hanging over your aunt's wine rack. But where did this all begin, and are we good with some door decals and not others?
It's not like text decorating walls is a new concept—we've already talked about the divisiveness of word art. But how did this phenomenon find its way onto doors? My best guess is that door decals started in schools, public places, and at events to point visitors in the right direction—"Bathroom," for example, or even "Hello!" on a door letting you know you've found the right place. Like a lot of trends, innovation really starts in commercial spaces, where people are inclined to take risks or to make decisions for the sake of clarity. And then we, more or less, adapt the things we see at stores, restaurants, hotels, and such for our homes.
But maybe door decals are one thing that should be left for the logo of the cute gift shop you went to on vacation or the name of the retro diner in your town?
Of course, everybody has their own tastes, and there is something to be said about playing with kitsch to add humor to a room. But if you are trying to design a chic space, this trend is probably one to skip. Is a door decal even functional or practical in a home? I bet you'll be able to locate your dry goods and snacks without the "Pantry" label on the door steering you in the right direction. Same goes for your laundry room.
There are instances where door decals get a pass though: During the holidays and for kids' rooms. The holidays are fine, because whatever you do to decorate is temporary. Knock yourself out wrapping your bedroom door up like a Christmas present or stick a "Be Merry" decal underneath your wreath. And kids' rooms are places where whimsy comes first and the principles of good design comes second—if at all. So if your little ones want their names on their doors, you go right ahead and fulfill that wish. 
In the end, door decals are one of those things that invite debate in the design world. A designer probably wouldn't include a "Boss Lady" door decal in the plans for your home office, for example, but if you like it, go for it. And yes, I've seen a few homes use decals for their house numbers, and I actually think that's a great idea. But in general, the door decal trend is one I'm okay with skipping. I'm guessing my houseguests will still be able to find my bathroom without the words "Get Naked" emblazoned on the door.