Doryn's Gorgeous Kid Oases
We
independently
select these products—if you buy from one of our links, we may earn a commission. All prices were accurate at the time of publishing.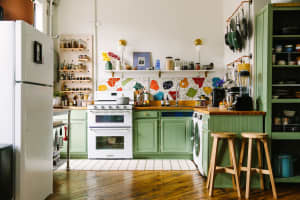 Can't-Miss House Tours Straight to Your Inbox
Keep up with our latest house tours each weekday with our House Tour of the Day newsletter
Name: two children (4 and 1)
Location: West Village, New York City
Doryn grew up in a house in which the kid options were few and far between. While she did not wish to turn her home over to her kids, Doryn successfully created wonderful kid friendly places that integrate well into the overall design. In addition to each of her two children's bedrooms, there is a great playroom on the ground floor.
It's a special treat to be able to tour Doryn's children's bedrooms and playroom. She succeeds time and again to offer kid-friendly alternatives, rather than focus on the prohibition or off-limits of the adult elements of her and her husband's exquisite home.
How would you describe the look and feel of this room/these rooms?
I really wanted my kid's rooms to be a place for sleeping and reading, not playing. I tried to keep them as minimal as possible but warm enough that they had little touches to make them feel like it was their own space. My daughter wanted lavender in the room, so I tried to make it as lavender as possible. When she's older, I will definitely let her have more of a say in what her room looks like. I look forward to that!
For my son's room, I wanted him to be able to grow with it and that's why I kept the walls white and the carpet brown. I can paint over the paintable wallpaper whenever he wants and work with the neutral carpet. I also thought the transportation theme was both very colorful for a small baby's eye development but also can work with an older toddler.
What is your favorite piece or element?
I love the large image of the car in my son's room. I simply bought a cheap stock picture and had it blown up and put in plexiglass. I love my daughter's bed! I dreamed of a bed like that when I was little. My son likes to play in his window treatments (which is what I thought, so I used a grommet panel for security) my daughter loves her bed and the picture of us as a family before our son was born.
What was the biggest challenge decorating this room?
The windows are so odd looking from the inside and great from the outside to go with the building but I didn't want their room to feel so contemporary. My daughter's window, I hid the floor to ceiling window by designing the window treatment over it. My son's was more of a challenge because it wasn't even on each side so his is usually exposed.
In my daughter's room because of the size, I was trying to decide if I should put the bed against the wall so she had more floor space but then that left nowhere for end tables really, which she uses a lot. One day I will design her a bunk bed with trays that slide out for putting a drink or something on it.
What do friends say about the room?
They love it and want me to design their kids' rooms.
Do you have any advice for parents creating a room for their child?
The biggest piece of advice I can give you is if you own a home and you have a baby, design their room to grow with them. While a nursery is sweet and I understand how you want it to have a baby feel, they outgrow that baby style in a short time and then they're toddlers. If you don't want to redecorate, make it a room that can work for a baby as well as a 4-year-old!
What, if any, are your additional plans for the room?
When my son is out of the crib, I will put more stuff on his walls.
In my daughter's room, I put just a small floor bookcase in there which is so cute but as time goes on, she may need a piece of furniture there so I didn't put anything on that wall for now.
If money were no object, what would be your dream source?
I think I'd rather say, if 'practicality' were no object, then their rooms would be made up entirely of vintage furniture and antiques!
• Corduroy Paintable Wallpaper from Target.com
• All walls and trim painted in Benjamin Moore Super White
• Crib: Sparrow Crib from Giggle
• Bedding: Dwell Transportation
• Window Treatments: Dwell Transportation by The Shade Store
• Dresser: Bungalow 5
• Abacus: CB2
• Blanket on Bed, Giraffe Lamp, chandelier and Mirror: Jonathan Adler
• Chair: Monte Design
• Carpeting: Patterson Flynn & Martin
• Walls: Spring Lilac by Benjamin Moore
• Bookshelf: Land Of Nod
• Lamps: Anthropologie
• Bed Frame: Duc Duc
• Details on Bed (headboard, canopy, skirt): Deco By Designers
• Fabric: Serena & Lily and Annette Tatum
• Window Treatment Fabric: Annette Tatum
• Wallpaper: Isak
• Tiles: Artistic Tile
• Vanity was just lacquered and knobs from myknobs.com
• Mirrors designed by Doryn
• Wall lighting: Circa Lighting
• Chandelier: is antique
• Wall Mits and Pin Ball Boards: vintage
• Bins: Land of Nod
• Bookcase: Pottery Barn
• Table/Chairs: Discount School Supply
• Sofa Bed: Room & Board
• Cork Board: Doryn had someone make it for her
Check out our archive of past tours
• ROOM SUBMISSIONS Have a kid's space you'd like to share? In addition to working with some readers to feature full tours, we share the best as "My Room" posts on Ohdeedoh — short, quick tours of great rooms. Submit yours here.