This TikToker Converted an Old Thrifted Nightstand Into a Smart and Stylish Dog Feeding Station
We independently select these products—if you buy from one of our links, we may earn a commission. All prices were accurate at the time of publishing.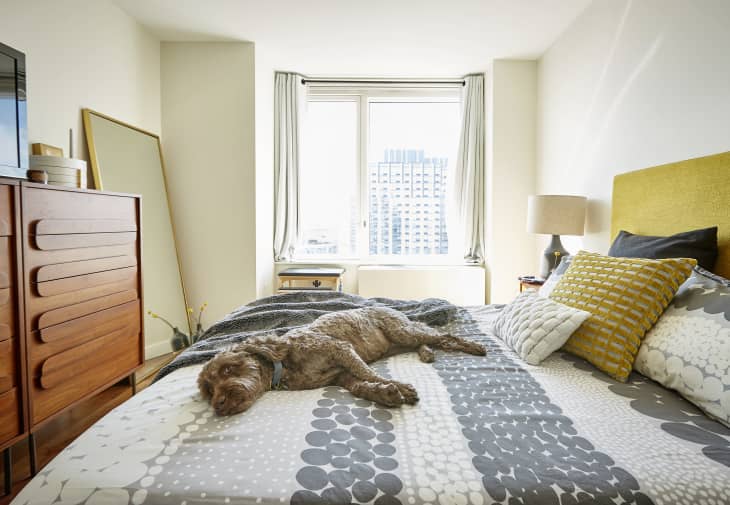 For those of you who have been on the hunt for a stylish and effective way to disguise your dog's food bowls and dog food bags, one TikToker is here to give you a eureka! moment. 
Sarah from the @rockcanyonrustic TikTok account recently posted a video showing the process of converting an old nightstand she found at the thrift store into a super chic dog food station, complete with storage for the dog food itself and a bottom drawer that can be pulled out to reveal her dogs' bowls.
Follow Topics for more like this
Follow for more stories like this
"Have you ever seen those cool dog feeder stations that look like furniture? I've been wanting one for a long time and I lucked out by finding the perfect-sized nightstand at my local thrift store," Sarah said in her February video. "And the process to convert it was actually pretty easy."
She first removed all the drawers and took out the bottom of the top drawer to create enough space to store a dog food bag. "[Then] I took the screws out that connected the base to the top," she said, adding, "I painted everything, added the top back with a couple of door hinges, and then I created this little base to hold the bowls in the bottom drawer."
In a longer video on her YouTube channel, Sarah takes a bit more time to talk through her process. She also switched out the nightstand's hardware, so she made sure to fill in the existing hardware holes with woodfiller before sanding and painting.
Sarah also secured the top drawer in place so that it can't be slid out. Alternatively, you could remove the drawer face and attach it to the outside of the cabinet with small nails — do whichever seems easier to you!
Who knew dog food could look so good? Check your local thrift for old dressers and flip one into something both you and your pup will enjoy.