Drew Barrymore Just Launched an Affordable Accent Chair You'll Want to Lounge In All Day — and Shares Exclusive Details of What's Next in Her Walmart Home Line
We
independently
select these products—if you buy from one of our links, we may earn a commission. All prices were accurate at the time of publishing.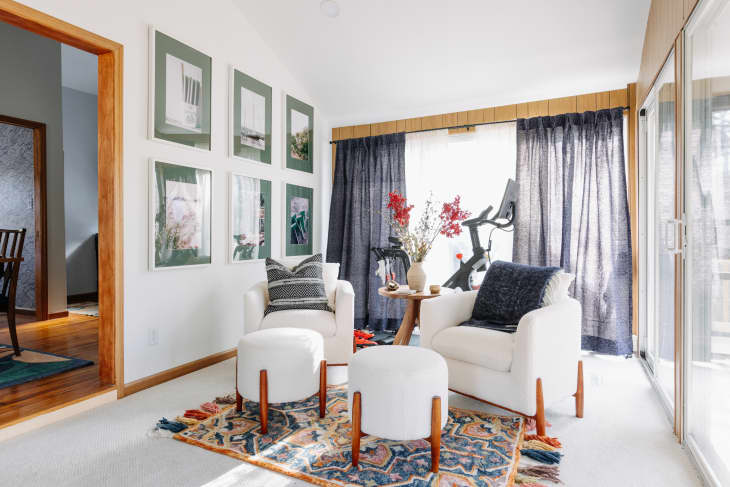 Talk show host, author, actress, beauty mogul, and kitchenware designer — you name it, Drew Barrymore has it on her resume. The multi-hyphenate has impressed our editors with her Beautiful kitchen appliances, such as her toaster oven and blender, and now, Barrymore announced Beautiful is expanding into the home space at Walmart.
This isn't a huge surprise, because Barrymore has been preaching about how essential home must-haves, like kitchen garbage cans, should be aesthetically pleasing and functional. Obviously, at Apartment Therapy, we totally agree on that point. Although Barrymore hasn't shown off her newly designed garbage can yet, she did reveal the first item in her home line: this stylish Beautiful Drew Chair. Recently, she spoke with AT about this single-item drop and what we can expect of the rest of her new line.
The boucle swivel chair is made for lounging. It boasts a 360-degree swivel, a plush padded seat, and an affordable price point. Try finding a boucle chair, which is the fabric of the moment, for that price point and you'll be hard-pressed.
"It's a very unique shape and scale," Barrymore says of the chair. "I really wanted it to be thin and diminutive, but you can comfortably fit two people on it — if you take the pillows off — or you can get in it and just be enveloped."
At 40″ wide and 36.5″ deep, this chair is ideal for small spaces, especially if you live in a studio. The pillows also allow you to customize the chair to your comfort (or sitting position).
"You have to sit in it or see someone in it to understand the scale because it looks like an average chair, but it's not an average chair," She continues. "I wanted it to be more than a chair because a chair is great for upright. I want to be able to cover myself. I want to be able to tuck my legs in. I can lie back and drape my legs over. There are many ways that you can be in the chair. I wanted it to be more like the way a couch functions. You know you get on a couch and you're like 'This whole no-arm thing is kind of bullshit.' It looks great, but what have I done to myself? We made this chair custom, and I love the way it functions."
"It was sort of a fun, weird idea we came up with to just do the one drop, because the rest of the collection, which is also very tailored and tight, was learning from all those years — don't do these massive dumps and do a bunch of stuff to do a bunch of stuff," She says. "Everything was so curated and loved and cared for. We have this coffee table coming out, you're going to die. It's so beautiful and it's so affordable. I'm so thrilled!"
We aren't sure when the rest of Barrymore's new line will be available, but she did mention that she'd rather have a more edited line and have things sell out rather than go too big. So if you're eyeing this chair, we'd recommend adding it to your cart while it's still available.