Drew Barrymore Has a "Cookbook Closet", and Yeah, You're Going to Want One Too
We independently select these products—if you buy from one of our links, we may earn a commission. All prices were accurate at the time of publishing.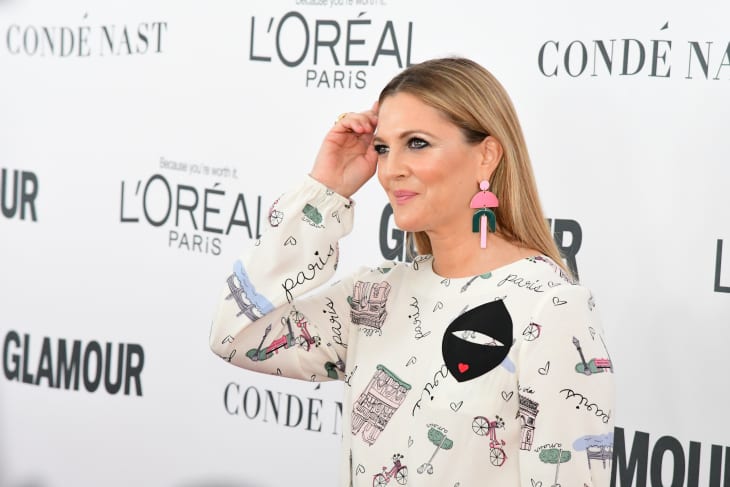 Drew Barrymore is giving fans hints as to what they can expect when "The Drew Barrymore Show" premieres on Sept. 14. The actress is open about her love of all things food, but even her biggest fans might not be aware about how devoted to cooking she is. Not only is her adorably retro kitchen is lined with cookbooks, but she has an entire closet filled wall to wall with cookbooks.
Barrymore shared a snap of the genius use of a closet on her Instagram, and I have to say, I can't believe I've never thought of it before. It's like a cozy book nook, except it's full of some truly mouth-watering titles, including Gwyneth Paltrow's "It's All Good."
Follow Topics for more like this
Follow for more stories like this
This isn't the first time she's hinted at her love of cookbooks. In another Instagram post, Barrymore mentioned in the caption that she is a "voracious cookbook collector" and that she reads three cookbooks a week in full. "Chefs are my heroes," she wrote. "I must read 3 cookbooks a week…cover to cover! Not just for the recipes, but also for the stories about how the authors find their inspiration. In every cookbook there is one recipe that will change your life."
The way that her closet is organized allows for quick access to grab whatever cookbook she's trying to find—which might come in handy for her new Instagram Live series, Drew's Cookbook Club, which she mentions in the caption.
This new digital series is hosted by Barrymore, and she invites chefs she admires to have engaging conversations revolving around food. In the first episode, Barrymore is joined by 19-year-old author and chef Haile Thomas, who specializes in plant-based recipes and just released a new vegan cookbook, "Living Lively".
During their chat, Barrymore shared that since she had a busy childhood as a working actor, she's "self-educated" in part from reading cookbooks and learning about authors' lives through their recipes and stories. "We all have our passions and we fight to carve them out in a busy life. For me, cookbooks are one of my great passions. This for me is so much more than books—it's about good people," she shared during the episode.
Keep checking Barrymore's Instagram account for her upcoming talk show for updates on the next episode of Drew's Cookbook Club. But for now, time to get started on your own cookbook closet!