Slow Cookers vs. Dutch Ovens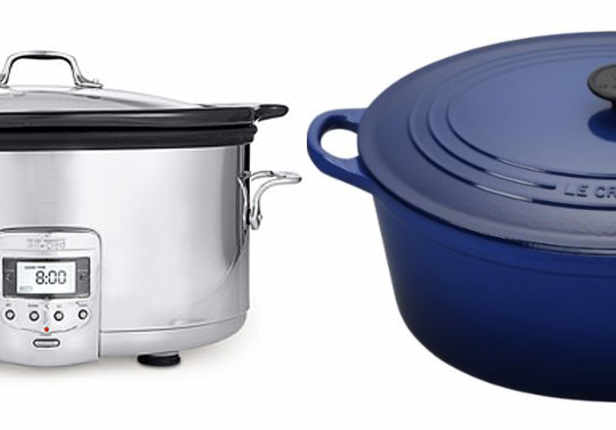 As we wrap up our coverage of soups on The Kitchn, we thought we'd share some of our best reviewed slow cookers and dutch ovens. While both make for great ways to create soups and stews, there are certain benefits that are unique to the different cooking processes offered in each.
Slow Cookers
With a dutch oven, you are able to place the system directly on the stovetop, making it ideal for browning meats before beginning cooking foods at low temperatures. Meanwhile, the slow cooker is really all about convenience. With this "long-and-low" method of cooking, you simply plug-in and combine ingredients to easily prepare delishous meals.
All-Clad
Good Housekeeping rated this slow cooker the best on the market. The All-Clad 6.5 Quart Electric Slow Cooker with Ceramic Insert can be set to cook on high for two to eight hours or on low for up to 20 hours. All-Clad's excellent customer service also offers to repair the machine if sent in at owner's expense. $180
Crock Pot
The Crock-Pot Versaware Pro Slow Cooker SCV1600B-SS is one of the most versatile. You can actually place it on the stove to brown meats before plugging in and beginning the slow-cooking process. The insert can also be placed in the refrigerator for saving dishes and then right into the microwave for reheating. $100
Amazon.com
The Cuisinart Programmable Slow Cooker PSC-650 is the best for the long cooking meats like brisket for long periods of time. With a unique lower-than-low setting for simmering, you can cook for around 24 hours. $100
Dutch Ovens
Le Creuset
This French cookware is often held up as the gold standard for enameled cast iron. Durable and designed to distribute heat evenly, it can last a lifetime if treated well. Le Creuset stands out from other brands for its rich colors, with new hues released seasonally. Shown: Le Creuset Round 5-1/2 Quart French Oven, $235.
Crate and Barrel
The popular Mario Batali line is similar to Le Creuset in looks but cheaper in price. Availalbe through Crate and Barrel and online stores like Amazon.com, it comes in a limited color palette. Shown: Mario Batali Polenta 6-Quart Dutch Oven, $110.
Emile Henry
Made from clay rather than cast iron, their products are crafted in Burgundy, France, where the local clay is said to have "superior heat retention." Their proprietary manufacturing process involves a very hard scratch-resistant glaze. Shown: 5-1/2 Quart Flame Top Round Dutch Oven Stewpot, $210.
Image: Le Creuset
Apartment Therapy supports our readers with carefully chosen product recommendations to improve life at home. You support us through our independently chosen links, many of which earn us a commission.