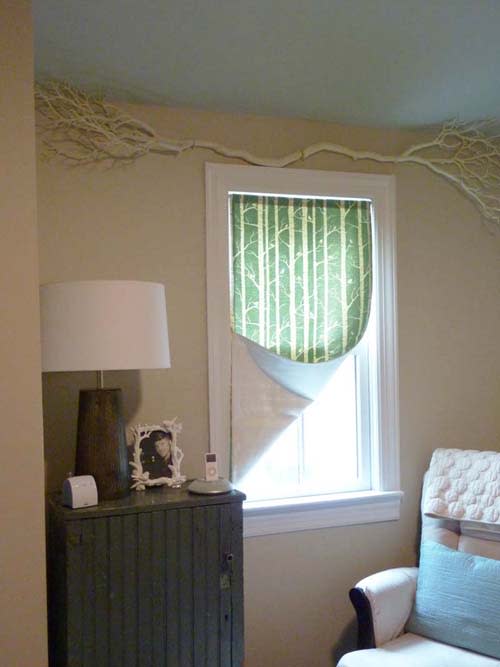 Name: Dylan Turner
Age: 9 months
Location: Canal-side in Lambertville, NJ
Room size: 8x10
Dylan's woodland "egg" room is a perfect example of creating a baby's nursery that matches the overall look and feel of your home. Kara transformed a guest room into a stimulating space for Dylan without "wiping the slate clean" and instead kept her favorite elements and added new ones to make it more child-friendly. The sweet woodland accents are sophisticated enough for adult tastes, but together lend an air of enchantment to this special room that any child would love to live in. Kara tells us about putting this room together and gives advice for changing a guest room into a nursery.
What was the inspiration for Dylan's room: This tiny space used to be our sleeping nook for overnight visitors, tagged "The Egg Room" by guests for its giant robin's egg painting, my collection of antique lithographs and several real birds' nests. With a baby on the way, our literal nesting made us realize that maybe we really didn't need to start from scratch to create a room for our son. A couple of new pieces of furniture, some branches and a liberal dose of Etsy finds, and we were in business. Maybe this was always a nursery waiting to happen...
What is the first thing you bought or picked out? Finding forest-y fabrics to replace the silks and beaded ones that were still framing the old room seemed like a good first step. I wasn't sure what I'd do with them yet, but the birch tree and faux bois yardage helped us make the mental transition from the delicate, feminine space it once was, to a little woodland nursery for our coming son.
What is your favorite element in his room? I love the white branches over the window and the birch curtain. Dylan marvels at the trees and birds seemingly lit from behind when the curtain is closed, and then grasps the corner loop to lift and peer behind, wide-eyed.
What was the biggest challenge? Once the practical requirements of crib, dresser/changer and rocker were in place, it felt like there was no space left to make it a child-centric space. I longed for the dimensions to create play areas, hang low mirrors and build a little haven in small-scale. Reduced to one little corner, we had to focus on what mattered most, and for us -- that meant trying to share our love of reading with the little guy. The narrow sling bookshelf and low-profile bathmats allowed us to create a little nook without blocking the pathway through the room.
What do your friends say when they see the room? "I need that exact same reading nook in me-size."
Dylan's room is mostly neutral with creams and browns – was it hard to resist adding brighter colors? Our whole house is like that -- a neutral foundation that mixes finishes and textures rather than colors. It lets us add color in smaller, less permanent, but hopefully still impactful ways. Letting artwork, fabric, a family photo or a found object be the thing that stands out, rather than the wall or furniture itself just felt right to us. And, when Dylan someday decides he NEEDS a blue and orange rocket ship bedspread or rows of cornstalks against the wall -- no problem. (The slanted ceiling in Dylan's room is robin's egg blue though - our only surface with color in the house!)
Any tips for transforming a guest room into a nursery? If you're not planning to wipe the slate clean, choose a couple beloved old items that create a cool contrast with the new, rather than ones that sort-of-but-don't-quite match. Interesting contrast can give character to your room, but a pairing that is just a little bit "off" can drive you crazy. We tried to soften and familiarize modern pieces like the crib and dresser with our chip old hardware cabinet-o'-cubbies for Dylan's future treasures.
What was your biggest indulgence here? Spending too much on smaller details. Since everything substantial was a gift, bought with Amex points, or was re-purposed from our home, I felt free to indulge on the little things. So, no guilt about ordering two yards of hand-screened fabric shipped from Australia, having the log and stump pillows custom made, or buying a pricey lamp.
Do you have any advice for parents or parents-to-be starting this process? Be open to finding the perfect match in things that don't match, and consider incorporating pieces/items from your home that you already love and have a history with. For us, that made Dylan's nursery feel like it had always been there, waiting, instead of feeling like this alien room that had been dropped from above by a children's catalog spaceship.
If money were no object, what's your dream source? I'd probably take a month off, buy a huge vintage pick-up truck and drive across country visiting auctions, country flea markets, out-of-the-way junk/antique shops and the World's Longest Yard Sale.
Anything else you'd like to add? Proving elusive was a reasonably-priced modern glider or an old rocker that was comfortable and narrow enough to fit our tiny space, so we gave in and bought the super-cozy, super-cheap, not-so-handsome big-box-store glider, and tucked it in a corner with pillows and a modern quilt. What it lacks in style, it makes up for in comfort every day.
Resources:
Crib: "Babyletto Mercer" from Amazon
Dresser & Lamp: West Elm
Glider: Walmart
Sling Bookshelf: One Step Ahead (My husband painted the ugly wood veneer end pieces to match the room's walls)
Curtain: "Birch Forest" fabric from Ink & Spindle - sewn by Kristen & Danielle at BellaBlue
Log & Stump pillows: Custom made from my fabric by Deena at bebemoon
Egg Painting: Laurie Meseroll at Folk Art
Alphabet pillow and fabric books: By pi'lo
Branch blocks: The Whimsy Tree
Plush animals: Little Red Pear
Woodgrain pillow and stitched owl: Chloe Zee
Bird-on-a-wire fabric storage bins: Nestings
Thanks Kara and Dylan!

Apartment Therapy supports our readers with carefully chosen product recommendations to improve life at home. You support us through our independently chosen links, many of which earn us a commission.