6 Dystopian Books to Read Now, If You Dare
We independently select these products—if you buy from one of our links, we may earn a commission. All prices were accurate at the time of publishing.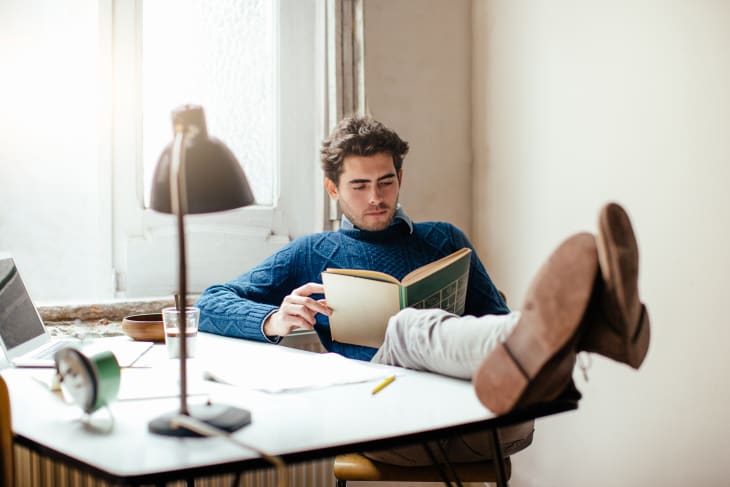 I thought dystopia was the last thing anyone needed. Many people have asked if I recommend "Severance" by Ling Ma, and my answer was, "I mean yes, but also… don't read that right now." Dystopia can feel eerily prescient (just look at the success of "The Handmaid's Tale") and therefore, not much like an escape. That being said, I've recently read a few dystopian novels that were immersive, imaginative, and good reminders that we haven't hit total apocalypse yet. 
Follow Topics for more like this
Follow for more stories like this
So if hair of the dog is what you're seeking as you pick your next read, here are a few speculative novels you might try.
For those living in—or recently escaped from—a large city, you may find this dystopian depiction a bit too real. A virus is sweeping through Manhattan that leaves its victims zombie-like and the city empty and unrecognizable. Candace is somehow immune from the virus, and joins a group escaping the mysterious plague. Soon, the rescue mission turns sour, as the group of outsiders struggles to maintain order and decide how to proceed in such an upside-down reality.
Station Eleven by Emily St. John Mandel
This is one of those dystopian books that will make you say, "Well at least our world hasn't reached this yet." In that way, it does feel like a bit of an escape, though the impetus of the novel is a deadly flu-like pandemic that wipes out civilization in a matter of weeks. Years later, Kirsten is part of a traveling musical troupe, trying to make a living and keep art alive for other survivors. The story weaves together the "before" and "after," and is a beautiful portrait of resilience and rebuilding.
The Memory Police by Yoko Ogawa
The premise is almost too difficult to imagine: There is a remote island where things disappear. Not physically, but conceptually—ribbons, birds, photographs, perfume bottles—the actual objects reman, but their meaning and significance is completely erased from all citizens' memories. Local authorities, known as The Memory Police are enforcing order and trying to make the disappeared stay gone. It's an eerie exploration of what makes a memory, and how even the most insignificant things can be incredibly precious.
Never Let Me Go by Kazuo Ishiguro
It is so hard to describe this book without revealing its central twist. Kathy, Ruth, and Tommy are students at an exclusive school, where they are constantly reminded of their special purpose in life—even if it's unclear exactly what that is. Only years later, as adults, do the three begin to understand what makes them unique—and struggle with issues of fate, independence, and what makes a person.
Parable of the Sower by Octavia Butler
I had never read any of Butler's works, and was intrigued by "Parable" which is the first in her "Earthseed" series. It takes place in 2025, as climate change wreaks havoc on the world and it's nearly impossible to find clean water, a job that pays money, or a sense of safety in your own neighborhood. Lauren, just eighteen, is forced to flee her gated neighborhood and begin a trek north in search of a place where she may launch a new community molded around her unique, revolutionary ideas. 
Ready Player One by Ernest Cline
When everyone started to get obsessed with Animal Crossing, I kept thinking about this novel. It takes place in 2045, when the real world is grim enough that everyone spends time in the virtual reality of OASIS. This large-scale simulation is a far bigger—and more intense—escape from reality compared to the zen of Animal Crossing, but something about the recent obsession with virtual world building made me think Ernest Cline was onto something.