Eames Fans Will Want to Check Out This Exhibit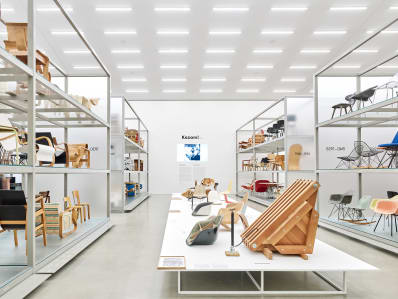 (Image credit: Installation view Vitra Schaudepot "Kazam! The Furniture Experiments of Charles & Ray Eames," 2017, photo: Mark Niedermann)
The Vitra Museum in Weil am Rhein, Germany opened 'An Eames Celebration' this fall, an extensive look into the work and lives of the iconic design couple.
You have until February 25th to check out the exhibit, which is spread across four buildings, including an exhibit designed for children. This is the first time the museum's full Eames collection will be available for viewing by the general public and includes over 500 objects. The museum is dedicated to celebrating and preserving design, and the main gallery is designed by Frank Gehry.
"Charles and Ray Eames are counted among the most important designers of the 20th century. With their furniture, films, books, exhibitions and media installations, they have influenced generations of designers and continue to shape our everyday culture. No other name in design so clearly represents technical perfection and a timeless aesthetic, and none is more closely associated with the exuberant start-up culture on the American west coast during the post-war era, in which the Eameses played a prominent role. From 30 September 2017 to 25 February 2018, the Vitra Design Museum will present
An Eames Celebration
– four parallel exhibitions that offer an unprecedented view of the work created by the legendary designer couple."
More on the designs of Ray & Charles Eames