Easy Clean Kitchen Flooring Choices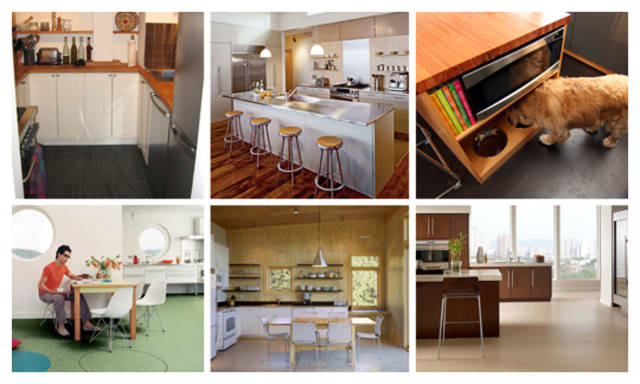 If there's one room in your home where flooring really matters, it's the kitchen. Aside from aesthetics, the material you choose needs to be durable, comfortable to stand on and easy to clean! Whether you're starting from scratching or dreaming of a renovation, we've put together six of our favorites as a good place to start.
1. Tile: Tile is great in a kitchen because it is durable and easy to clean. Whether you choose ceramic or a natural stone, look for larger scale tiles (I love 12"x24") to reduce the amount of grout lines. The only drawback to tile? It can be uncomfortable to stand on for long periods of time and isn't as forgiving to the dropped wine glass.
2. Hardwood: Due to their susceptibility with water, hardwoods have not been the traditional choice for a kitchen. However, with better products and sealers on the market, wood can be a great choice and is easy to clean. In homes or apartments with open floor plans, using hardwoods throughout the space can also provide a sense of continuity. Wood also has more "give" so it's less fatigue-inducing than tile or concrete.
3. Cork: Cork might just be the current darling when it comes to flooring. Not only is it available in many interesting colors and patterns, but it has a slight cushion meaning it's more comfortable to stand on than wood and helps prevent dropped dishes from breaking. Due to its cellular structure, cork is also warmer to the touch then other materials. In terms of sustainability, cork is made from a renewable resource and contains a natural substance called suberin, which acts as an anti-microbial agent. Although cork is not usually recommended for wet areas, as long as its properly sealed, cork will do just fine with the occasional spill. Cork floors can be cleaned the same as you would a hardwood floor.
4. Linoleum: Linoleum is not a new product, but it has made a resurgence in recent years. It comes in a wide range of colors and your choice of sheet goods or tiles. Even with tiles, the seams between are barely detectable which makes linoleum a great choice for an easy-to-clean floor. Unlike vinyl and other petroleum-based products, linoleum is typically made from 100% natural materials like linseed oil, cork, limestone, tree rosin and natural minerals.
5. Concrete: Concrete may not be an option in existing homes, but it's something to consider during new construction or a major remodel. While not incredibly comfortable to stand on for long periods of time, concrete is extremely durable and long-lasting (great for dogs!) and is perhaps the easiest to clean and maintain. Ok, and while the thought of gray concrete might be "blah", the material can be stained a number of colors to create warm browns and reddish tones. But what about walking on cold concrete? In many new homes, concrete floors are paired with an under slab radiant system, creating happy feet and a more efficient means to heat your space.
6. Hybrids: There are now several products on the market that combine the best of two or more materials. One example is And/Or, a rubber/cork hybrid from Capri. The addition of rubber creates a more shock absorbent flooring and the cork keeps it from looking like something in a gym. Minimal seams keeps cleaning simple and fast.
(Images: 1. Apartment Therapy, 2. Coastal Living, 3. chezerbey, 4. Forbo, 5. Balance Associates, 6. Apartment Therapy)