I Tried "Easy Untertaining" and Planned a Party 24 Hours In Advance—Here's What Happened
We independently select these products—if you buy from one of our links, we may earn a commission. All prices were accurate at the time of publishing.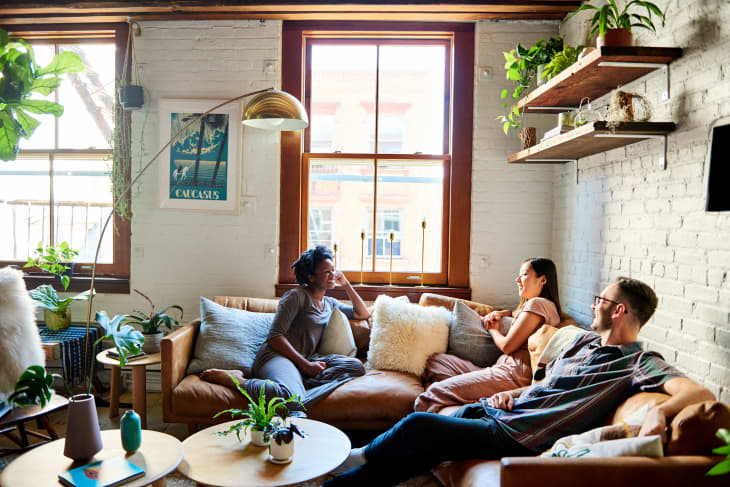 Welcome to Easy Untertaining! It's a term we coined here at Apartment Therapy to describe those get-togethers that just kind of… come together.
Follow Topics for more like this
Follow for more stories like this
I used to throw a big holiday party once a year to get all my friends together, but once I moved into my tiny NYC apartment, hosting became an annoyance for everyone involved. (It didn't help that my fifth floor walkup was a minimum of 80 degrees in December, even without the heat on.) Plus, who has time to even plan anything anymore? I definitely want to get back into a groove of having people over, but like many people, I've found that it can be really hard to coordinate all of the moving pieces to make it happen. As a result, I see friends less often, which is hard in such a big city. But, it turns out, it doesn't have to be.
The Apartment Therapy editors got to talking about how much effort it takes to host a party: the cleaning, the cooking, the planning, the wrangling of people whose schedules are packed weeks in advance. But we thought, well, who says having people over has to be this big ordeal? Maybe if it was a little easier, and there was less pressure and planning involved, it would make everyone just… hang out more? Untertaining was born.
I decided to put the concept to the test and text people the day before (GASP) to come over and hang out on a Sunday afternoon. I followed our untertaining rules (see below) to make sure it was as stress-free as possible (even though I of course still found something to stress out about). Here's how it went:
Rule #1: Reach out 24 hours or less in advance
I got home around 5:30 p.m. on Saturday, which is when I started shooting off texts to my possible guests. The message went something like, "Hi! I'm gonna have some people over to chill tomorrow afternoon between 12:30-4 p.m., will have some apple cider mimosas and we can have a cozy day hanging out. Let me know if you're around or want to stop by!"
There was radio silence that night, which honestly made me nervous if anyone was going to make it. (I live in NYC where people don't travel across boroughs on the weekends and love to have a free day when they can get it, which, same). Then the morning of, I started getting the nos, which was expected, but a few confirmations came in, too. It was a range of friends from different stages of life who didn't know each other. Was it going to be random? Yes. But hey, no turning back now!
Rule #2: Spend minimal time cleaning up (1 hour max)
I wasn't sure how this part was going to go. I get it in theory, but when you actually have to face the idea of people seeing your mess? Yikes.
I decided to take on only my kitchen, living room, and bathroom because those were the spaces my friends were going to see/use (this is a great hack if you're generally anxious about hosting in a messy home!). And with that, at 8:58 a.m., I got to work. I put blankets away; tidied up the coffee table (yes, I shoved misfit items into drawers); Clorox-wiped my stove, counters, and bathroom sink; and swept up the crumbs on the floor.
Fast-forward 49 minutes and I got it all DONE. I felt so proud. Should I pretend I'm spontaneously having people over every weekend?
Rule #3: Use what you already have
In a perfect world, I would have a fully-stocked fridge and bar cart around the clock, but that just isn't realistic. But after poking around a little, I managed to gather a bottle of Prosecco and half-carton of apple cider (I ended up buying one more carton), then some maple syrup and sugar to make a rimmed apple cider mimosa *chef's kiss*. I also unearthed a cookie kit from Milk Bar that I didn't use yet (am I human?!) and happened had the butter, oil, and eggs to make it happen.
I also did a quick grocery run and bought three (3) cheeses, one (1) box of crostini, and one (1) carton of apple cider. Less than $15 later, I had a party in the making! I slapped those cheeses on a board with grapes I already had, baked those cookies, and voila! Snacks were all taken care of.
With those three rules officially executed, I eagerly awaited my guests arrival and… the rest was truly history. Six people came that afternoon, and we spent the next few hours sipping on mimosas, laughing to stories most hadn't heard before, and "watching" Disney+ (we were so busy catching up that we really didn't, and you know the conversation was good when you pay no attention to "Lizzie McGuire"). I couldn't even really tell you where the four hours went—enter the "time flies when you're having fun" cliche—but it went by in a happy, full-belly flash.
The random guest dynamic that put a slight shake in my boots actually worked out for the best—no one felt left out because no one really knew each other. The mix ended up balancing out: talkative, shy, and laid-back personalities. And the best part of all? I got to see different parts of my life gather under one roof (specifically, my roof!) and… everything just clicked. It was a nice reminder that it's OK if not all of your best friends can get together on the same day at the same time—in fact, this kind of untertaining is a great, pressure-free way to see people that you don't often get to hang out with, even if it's just a few people who don't know each other well.
As a side note, the cleanup was close to nothing, too. I put out six plates that not everyone used and six glasses for the mimosas. I picked those babies up, gave them a rinse, put them in the dishwasher, and I was left with a clean apartment! Sunday dreams do come true.
My conclusion: easy untertaining is absolutely doable. The thought of not prepping ahead might be daunting. But once you let go of expectations and appreciate the company that does show up, it can make for a great time, and a low-stress way of getting to hang out with people more often. And hey, being left with a tidy apartment and leftover cheese ain't so bad, either.