This "Elf" Decor Kit Is Inspired By the Beloved Christmas Movie
We
independently
select these products—if you buy from one of our links, we may earn a commission. All prices were accurate at the time of publishing.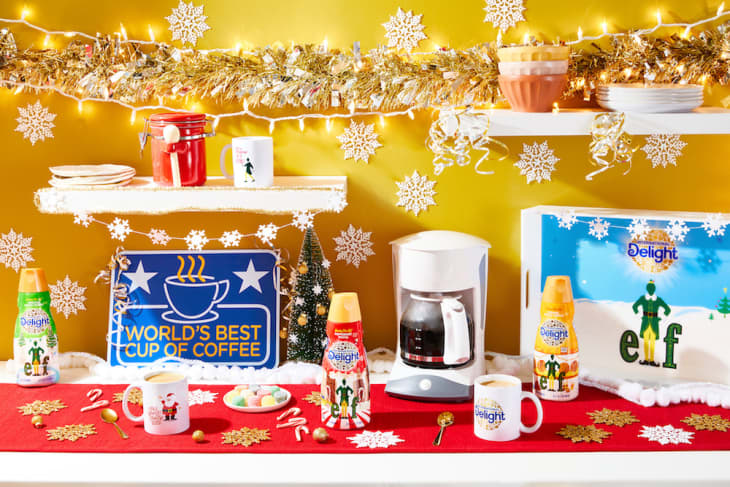 Buddy the Elf has said that the best way to spread Christmas cheer is singing loud for all to hear, but Santa's closest confidant actually left out another key contributor to holiday cheer: coffee. For many (see: me), there is no cheer without that first sip of coffee. Enter: International Delight. The coffee creamer brand partnered with Warner Bros. this holiday season to create a limited-edition "Elf" decor kit that will delight fans of the beloved 2003 film and coffee enthusiasts. 
Inspired by Buddy's (Will Ferrell) unparalleled decorating skills, the "Elf" decor kit features holiday decor and coffee essentials with festive nods to the film. A "World's Best Cup of Coffee" sign, twinkling string lights, fluffy garlands, paper snowflakes, the infamous 6-inch ribbon curls, and three coffee mugs adorned with some iconic quotes from the film are some of the products featured. International Delight's four elf food groups—candy, candy canes, coffee, and creamer, obviously—are also represented in the kit. 
The kit will thus transform parts of your home into a Gimbels department store-inspired winter wonderland, minus Will Ferrell excitedly jumping up and down at the announcement of Santa's impending arrival. Here comes the not so festive part: there are only 50 decor kits, and in order to snag one, you'll need to enter for a chance to win at InternationalDelight.com/Elf between now and Dec. 4. All you have to do is share why you could use some holiday cheer this season. A winner will be randomly selected on Dec. 7. 
If you don't win, don't turn into a cotton-headed ninny muggins. You could still shop International Delight's new seasonal Caramel Waffle Cookie, Peppermint Mocha, and Frosted Sugar Cookie coffee creamers at your local grocery stores this holiday season.
"This year, International Delight is going all in on holiday flavor and fun with help from our friend Buddy the Elf," Marie Dobson, International Delight marketing director, said of the festive kits. "We know this holiday season is going to look a lot different for many people, so we're thrilled to be the only coffee creamer brand partnering with Elf to bring holiday happiness to homes and coffee corners nationwide."