Ellen's Design Challenge: Meet Sef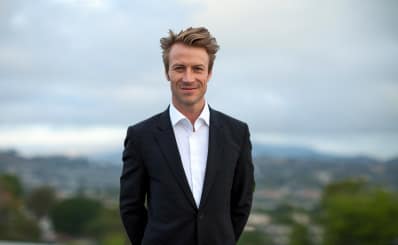 (Image credit: Courtesy Sef Pinney)
Name: Sef Thomas Pinney
City: Los Angeles and New York City
Style: Contemporary, organic, boundary pushing. Thoughtful and not faddish. Accessible and not precious.
Carpenter paired with: Chip Wade
When did you realize you had potential in furniture design?
When I realized how little research and design was put into many designs that are nevertheless successful on the market. Style lacking substance.
What is your design philosophy?
I am often saddened by a lack of awareness of the natural world within the building arts. The idea that a material is "just a material" and can be used anywhere is myopic and shallow, and the similar economic concept that "labor is just a type of capital" is responsible for child-labor, horrible working conditions and the unseen human depravity of our mass-consumer world. I want to change this with my life's work. I appreciate the true value of beauty in enriching and activating our lives, and I will make objects that do so ethically!
What are your design strengths?
Communicating with, and inspiring clients. Making beautiful and efficient forms. Subtlety. Seeing the big picture, as well as the craft details. I can solve tough problems without making Vanilla design.
What are your design weaknesses?
I have a hard time deeply appreciating designs that are quickly executed, unless backed by research, or from the hands of a master. Gestural, impromptu lines are better for art and installation, not design.
How did you end up auditioning for Ellen's Design Challenge?
A colleague suggested I apply, I sent in my 5 best pieces with only 4 days left for the casting call and was called back immediately. The next month was filled with video interviews, review of all work, everything I've ever made (art included.) My wife and I shot video vignettes of my life; running, designing, at the Shop, and at home.
Which challenge from last season would you have loved to compete in? Which one would you pass on?
The packing crate, challenge #1: I Would have made a chair with sculpted Walnut and plywood legs and concave, thermoformed acrylic seat and back, and forged custom steel angle connections.
I'd pass on the junk yard challenge. It seemed challenging in a bad way. However, I love a challenge, so where the others floundered, I would have worked to use that to my advantage.
On a scale of 1 to 5 sweater vests, how amazing is Ellen in person?
Ellen has this incredible way of making you smile inside and out whenever she enters the room, she feels so real and caring but her every action and words is hilarious. She is truly a great woman.
Thanks, Sef! Watch him compete on Ellen's Design Challenge, Mondays at 9|8c on HGTV!