We Tried a Mattress Designed for Plus-Size Couples for 25 Nights —  and We've Never Slept Better
We independently select these products—if you buy from one of our links, we may earn a commission. All prices were accurate at the time of publishing.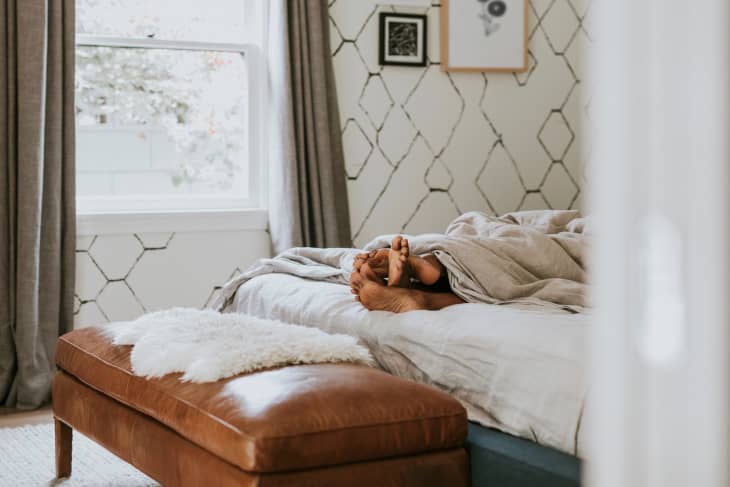 My husband and I have been arguing over our mattress for years. I'm a side-sleeper with chronic lower-back pain, and he's a back sleeper who likes to sink into a mattress like he's wrapped in a blanket. If I like the mattress, he thinks it's way too firm to cozy up to for a good night's rest. And, if he likes the mattress, I'm usually feeling unsupported, sinking too far into it and waking up to excruciating back pain.
For these very reasons, we've held off on splurging on a luxury mattress for fear that one of us would be miserable at night and it wouldn't be worth the investment. As a lifestyle writer, over the years I've had an opportunity to test out many different mattresses (and mattress toppers) when they first hit the market. While we have found some that we didn't both immediately dislike, no matter how many mattresses we tried, we never found one we both truly enjoyed sleeping on — that is, until now.  
Follow Topics for more like this
Follow for more stories like this
For just about a month, we've slept on the Emma Climax Hybrid mattress from Emma Sleep, a new mattress designed specifically for couples and plus-size sleepers that's budget friendly. Um, check and check! While the mattress is aimed at sleepers over 250 pounds, we technically are not, but we're close, we were still intrigued, and here's why: My husband is tall, weighs about 225 pounds and has a solid, athletic physique. He's also a very restless sleeper who moves around a lot at night, especially when I'm gently nudging him to stop snoring. I'm a curvy, full-bosomed size 16 (which is considered plus-size in the U.S.) that has trouble finding a comfortable position to fall asleep in at night. I regularly wake up in the middle of the night overheating to find that I've tossed and turned so much that I'm nearly sliding off the edge of the mattress. Put simply, we both needed to find a mattress that serves us both well and puts an end to our restless nights. So one designed just for couples on the heavier side — which is a first — was one we just had to try.
The first thing we noticed about the mattress was how easy it was to unbox and use. There weren't any pesky chemical smells and no awkward settling period. As soon as it hit the bed, the mattress was plush and ready to go. It's a hybrid mattress made of foam and springs that's considered medium firm. Sometimes all-foam mattresses can feel a bit too soft for lower back support, so I was immediately impressed with the initial firmness of this one. The first night, I felt supported but comfortable. We both woke up feeling well rested and acknowledged that we fell asleep much faster than usual. A plus!
My husband initially thought the mattress was a little too firm for his liking, but after a week or so of sleeping on it, he said it softened and adjusted to his body. I noticed the additional softness too, but the support hadn't wavered, so I was still all in.
This mattress also boasts six layers of comfort technology. I'll start with the bottom layer and work my way up. At the base, there's an HRX (high resiliency extra) foam layer which Emma Sleep stress-tested with a group of heavy sleepers. Just above it is a reinforced perimeter layer to help prevent active sleepers from falling off the sides of the mattress while asleep and to provide extra support when getting out of bed in the morning. We're twenty-five nights in, and I've yet to wake up on the edge of the mattress like I did regularly before.
Another noticeable difference my husband and I experienced overnight was that we weren't waking up with night sweats as often. I've gone through countless "cooling" sleep products, especially pillows, but their effects have always been minimal at best. This mattress features a layer of coils designed to support sleepers of all sizes and enhance airflow beneath you while you sleep. Just above it is a contoured ergonomic foam layer with pressure relief for areas where your body holds the most stress, like your head, shoulders, back, and hips. While my husband doesn't suffer from muscles aches, I have awakened many nights with severe lower back pain from the way I'd fallen asleep or from a super soft mattress that couldn't support my frame. I haven't yet felt any back discomfort sleeping on this hybrid mattress. For me, this is huge!
There's an additional layer of foam to help dissipate body heat, yet another win for a night sweater like me, and eliminate motion transfer from your partner, and in our case two small dogs that also like to curl up with us in bed. All these layers of supportive technology are wrapped in a climate-regulating cover that's super breathable and soft.
Look, I'll be the first to tell you that I'm not easily wowed by a new mattress, but this one is beyond impressive and has made a real impact on our overall sleep health in less than a month. Add to that its budget-friendly price tag — the full is currently on sale for $699 and the queen is $799 — and I can tell you that if you're in the market for a medium-firm mattress that actually delivers on its promises, you're going to get your money's worth with this one. Sweet dreams!