Airlines Might Be Changing Support Animal Rules Soon—Here's What You Need to Know
We independently select these products—if you buy from one of our links, we may earn a commission. All prices were accurate at the time of publishing.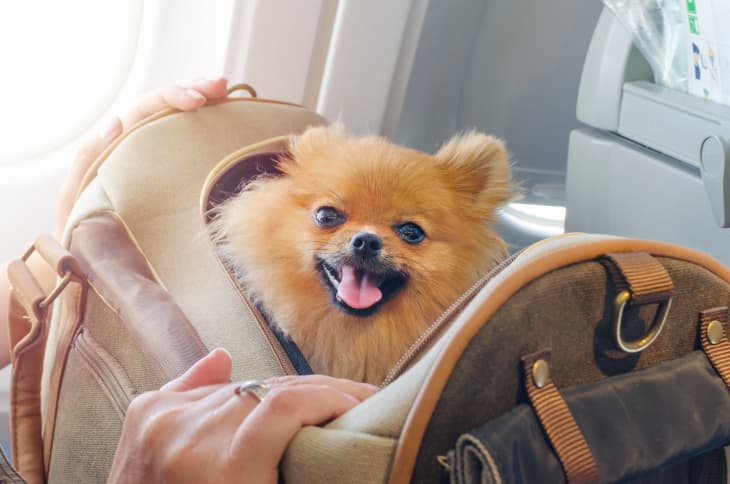 You've likely seen those news stories about airline passengers being turned away at their gate because they have a far-from-ordinary emotional support and/or service pet in tow. Remember that woman who tried to get her peacock onto her United flight?
Follow Topics for more like this
Follow for more stories like this
Due to the increased volume of service animals of all kinds making their way into airport terminals (American Airlines alone saw a 48% increase in passengers with service pets between 2016 and 2017), and complaints from staff, fellow passengers, and those with disabilities, the United States Department of Transportation (DOT) has had to draft some serious rule changes regarding service animals on flights.
In a Jan. 22 briefing on the Transportation.gov website, the DOT stated that it's seeking "public comment" on "proposed amendments to its Air Carrier Access Act (ACAA) regulation on the transportation of service animals by air." The DOT drafted a Notice of Proposed Rulemaking (NPRM) in which it states its want to redefine service animals as being small dogs with appropriate service training, no ifs, ands, or buts. 
This means that claiming your non-dog pet is an "emotional support animal" will no longer fly—literally. Sadly, Peter the peacock, and any other animal that can't fit under your seat, will have to stay at home.
However, the department will allow "psychiatric service animals" on board, but these animals will require the same training as any other certified service dog. Owners of service animals will be required to fill out appropriate forms attesting to their pet's certification, good behavior, health, and ability to relieve itself in a "sanitary manner" if traveling on a longer flight.
The proposed amendments also state that passengers traveling with service pets must arrive at the airport an hour prior to their departure to give staff sufficient time to process the pet's documents.
Again, these rules are not yet set in stone. The DOT will accept public comment within the 60 days following this notice's publication. Once those days are up, the department will weigh the feedback and make a final decision.
Chances are, though, your emotional support duck, snake, hamster, etc. will be on a no-fly list by the end of the year. So, plan accordingly.