Enter the Chip It! Challenge from Sherwin-Williams!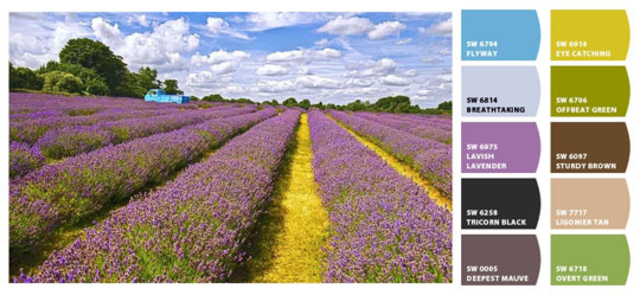 There's nothing like travel to open our eyes to the amazing colors around us. And whether it's the lavender fields of Provence, the rust-hued spices at a Turkish market or your peach-tinted drink at the beach, colors offer inspiration that can come home with you.


We want to see what colors you've found on your travels! Chip It! is a new tool that lets you turn any image anywhere online into a perfect palette, pulled from more than 1,500 Sherwin-Williams paint colors.

Share your summer color discoveries with Apartment Therapy readers by entering the Chip It! Challenge! If you enter your chipped vacation photo, Sherwin-Williams will regularly pin the favorites to their Pinterest page, and then Apartment Therapy will round up the favorite examples at the end of the challenge. Read more to find out how!
Enter the Chip It! Challenge and
Submit Your Chipped Vacation Photos!
Here's how to enter
1. Make sure you have the Chip It! bookmarklet (learn how to get it here).
2. Upload your vacation photos to any photo-sharing website (Facebook, Picasa, Flickr, or anything like that — it just has to be your own photo and it has to be online).
3. Chip your photo — just click your bookmarklet and roll over your photo to see the palette appear! Make sure to click "More Colors" to see the full spectrum in your photo.
4. Save your ChipCard and click "Pin it" when the dialog box appears.
5. Pin your photo and use the hashtag #chipit in the description — feel free to include other information in the caption, like your name and the location, date or circumstances of your chipped photo.
6. Come back to this post and paste the URL of your pin into the form below!
7. Complete the form below to enter the Chip It! Challenge.
8. Sherwin-Williams will repin some of our favorite Chip It! photos to their Chip It! board.
9. Then we'll feature our favorite ChipCards on Apartment Therapy.

You may enter as many different photos as you'd like, beginning June 20, 2012, and ending Friday, July 20, 2012 at 11:59pm ET.


We can't wait to see your chipped photos!

Go to the Chip It! board on Pinterest and see the selected entries. We'll round up our favorite entries next month!

Chipped photos: 1 Flickr user Nevalenx; 2 Flickr user vana_gwen; 3 Girl Cooks World; 4 Flickr user O Palsson; 5 Flickr user Frank Kovalchek; 6 Flickr user derek.chan; 7 Flickr user Anthony Majanlahti; 8 The View from Fez.