Erin & Ken's Backyard: Small Projects, Big Impact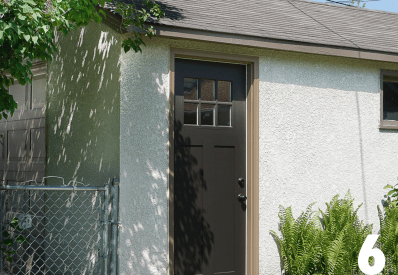 (Image credit: Submitted by Erin & Ken)
Name: Erin & Ken
Type of Project: Backyard Redesign
Location:Upper Tangletown — Minneapolis, Minnesota
Type of building: 1930s Tudor-Style Duplex
The Renovation Diaries are a collaboration with our community in which we feature your step-by-step renovation progress and provide monetary support towards getting it done in style. See all of our Reno Diaries here.
This weekend, Ken and I checked off a series of small projects in the backyard. First up, we hung the new main door on the garage. The door that was installed when we purchased the home was extremely rotten, dilapidated, and wasn't lockable, so we replaced it with a pre-hung, paintable fiberglass door that has a 6-pane window in keeping with the style of the house.
(Image credit: Submitted by Erin & Ken)
Once the door was installed, we decided to divide & conquer. I painted the new garage man door and trim (which, due to the 6-pane window style, took much longer than I anticipated!), installed the new locking door hardware, and painted the trim around the backdoor of the house. Meanwhile, Ken built two raised planter beds. The larger planter is for Ken and I, and the smaller planter is for our tenant, Heather. The size and placement of the planter beds was dictated by the location of a basement window in between the two planters.
(Image credit: Submitted by Erin & Ken)
Last but not least, we ran to our neighborhood garden center and picked up a truckload of garden soil for the raised beds. If you're building raised beds or creating any sort of substantial garden, I'd highly recommend purchasing your soil in bulk from your local garden center, as it's far less expensive than purchasing 10-15 big, individual bags of soil at the big box store. We filled up nearly our entire truck bed (about 1 cubic yard) with soil for somewhere around $35. Total score!
(Image credit: Submitted by Erin & Ken)
Once we got back to the house, we wrapped things up for the weekend by unloading the dirt via wheelbarrow into our new raised garden beds. Next weekend we'll be turning the raised planters into living, growing vegetable gardens and diving into the perimeter yard plantings.
(Image credit: Submitted by Erin & Ken)
Estimated time for project: 7 weeks
Time remaining: 4 Weeks
Perecent Done: 45%